– 74 KILLED IN 2010 KAMPALA BLAST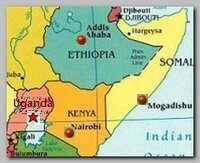 At least 74 people, including an American, have been killed in twin blast in the Ugandan capital Kampala, on Sunday 07/11/2010 night. 
Two suicide bombers blew themselves up at a rugby club and a mile (1.6 km) to the South at an Ethiopian restaurant as football fans watched the World Cup final. "These bombs were definitely targeting World Cup crowds," Inspector General of Police Kale Kayihura said. 
Somali militants have in the past threatened to attack Kampala; Ugandan troops are deployed in Mogadishu (see – Mogadishu 09.22.08). About 5,000 African Union troops from Uganda and Burundi are based in Mogadishu to protect the fragile interim government. 
The AU force is engaged in frequent fire fights with Islamist insurgents which control much of southern and central Somalia. 
Insp General Kayihura said he believed Somalia's militant group al-Shabab could be behind the attack. If true, it would be the first time the group has carried out attacks outside Somalia. 
In Mogadishu, an al-Shabab commander Sheik Yusuf Sheik Issa said he was "happy" with the attacks in Uganda. But he refused to confirm or deny that al-Shabab was responsible. Sheik Yusuf Sheik Issa told AP news agency: "Uganda is one of our enemies. Whatever makes them cry, makes us happy. May Allah's anger be upon those who are against us" (see – Kampala 4 Suspects ).
US National Security Council spokesman Mike Hammer said in a statement: "The president is deeply saddened by the loss of life resulting from these deplorable and cowardly attacks, and sends his condolences to the people of Uganda and the loved ones of those who have been killed or injured. 
The USA embassy in Kampala has confirmed that one American was among the dead.
* On Monday 07/12/2010, a
spokesman for al-Shabab in Mogadishu, Sheikh Ali
Mohamud,
said it was behind twin blasts which hit the Ugandan capital Kampala on Sunday. The spokesman
also
threatened more attacks
. Al-Shabab leader Ahmed Godane

took through the radio responsibility on the triple suicide attack and promissed more. 
* Ugandan authorities have made, on Tuesday 07/13/2010, a number of arrests in connection with explosions at two sites in the capital, Kampala. Kale Kayihura, the inspector general of police, said that investigators had also found a unexploded suicide bomb belt at a third site in the city (see also – Shabab-Network ). 
*

Uganda's authorities in Kampala confirmed, on Tuesday 08/17/2010, they have arrested 32 suspects linked to al-Shabab (see – Kampala 08.17.10 ).
***************************