– JIHAD AYA LATIF SHUMAN
–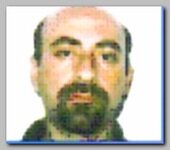 * Jihad Aya Latif Shuman, born 1969, is a Shiite Lebanese citizen, a graduate of the American University in Beirut's computer studies program and a Hizbullah operative. Jihad Shuman obtained also a British legal passport.
Jihad Shuman arrived to Israel, on 12/31/2000,  with his British passport under the name William Gerard Shuman. He lodged at the Novotel Hotel in eastern Jerusalem. He later moved to Jerusalem's Dan Panorama Hotel. On 01/05/ 2001, Jihad Gerard Shuman  was arrested in central Jerusalem by the Israeli police and Shin.Bet, the local security service.
A search of Gerard Shuman's possessions turned up the following: A kippah, a timer, tourist maps of the Jerusalem area, a large sum of money, a video camera, two disposable cameras, and several cellular phones that he had purchased in Israel and Sierra Leone travel documents.
According to his investigation Jihad Gerard Shuman  was told to leave Lebanon on his Lebanese passport and go to the United Kingdom where he was to leave his Lebanese passport in a hidden drop in a public place (where it would be collected by a third party). He was directed to fictitiously rent an apartment and a voice mail box in London, and purchase a cellular phone. Additionally, Jihad Shuman was directed to go to a travel agency that enables plane tickets to be purchased with cash.
Before arriving in Israel, he was briefed by his operator to speak only English and deny his Arab identity so as not to arouse suspicion. Jihad Shuman was directed to memorize a drop in Wadi Joz (between Mt. Scopus and the Old City) where certain objects were concealed. Upon arriving in Israel, he went to the drop and began digging in order to retrieve the objects.
Jihad Shuman has confessed that he phoned his Hizbullah operators in Lebanon on a regular basis in order to update them. He was detained for investigation before he could complete his mission.
Prime Minister and Defense Minister Ehud Barak, on 02/19/2001, signed a six-month administrative detention order against Jihad Gerard Shuman. The UK Foreign Office called for his immediate release if there was not enough evidence to charge him (see – U.K'S ABC-Group ).
* Related topics ;  
–
06/2001 -FAOUZI AYOUB ACCUSED OF BOMB MISSION IN ISRAEL  
2000 -SECURITY  ZONE IN SOUTH LEBANON   
PROFILE -MOHAMAD YOUSSEF HAMMOUD 
**************************************
Read more ;