– ABDULLAH AL-AZZAM BRIGADES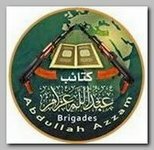 Abdullah Al-Azzam Brigades, in memory of Abdullah Azzam, is a shadowy Islamic radical and militant group operating in Mesopotamia (Iraq, Syria and Lebanon), al-Sham in Arabic, inspired by some of Al Qaeda's ideology  but is focused on fighting inside the Arab World  and not against infidels outside the Middle East. 
The group, initially led  by the Saudi Saleh al-Qarawwi,  one of the 83 mot wanted Saudis in the list of 02/2009, was formed from an earlier  Al Qaeda inspired group that operated in Lebanon since 2005 – the Jund al-Sham.  A branch of  Abdullah Al-Azzam Brigade was operating, since 2010, with Al-Qaeda in the Arabian Peninsula, AQAP, in Yemen, especially in Hadramaut. 
Since early 2010 Saleh al-Qaraawi appeared several times in Jihadi websites and was described as the head of "Abdullah Al-Azzam Brigades", a name typical to Al Qaeda's offshoots. After Saleh al-Qaraawi was arrested, in mid 2012, he was replaced by another Saudi, Majid bin Muhammad al-Majid, who was behind the attack on the Iranian Embassy in Beirut (see – Janah 11.19.13 ), Lebanon, on 11/19/2013, and was captured himself, in mid 12/2013, probably in Lebanon. 
The name Abdullah Al-Azzam Brigade is also
 a "name of convenience" and was used often by different Jihadi cells, not necessarily related to each other, in several occasionsand terror events all over the Middle East and  Pakistan. 
* Related topics;
08/2013 – TRIPOLI BOMBINGS 

07/2012 – AL-NUSRA CLAIMED RESPONSIBILITY FOR ATTACKS IN SYRIA 
************************.  
* Read more ;