– SUICIDE ATTACK ON IRAN'S BEIRUT EMBASSY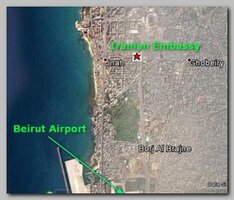 At least 23 people have been killed and more than 150 injured in a twin suicide bombing outside Iran's embassy in Beirut, on 11/19/2013 noon. The attack was claimed by a group linked to Al Qaeda, the 'Abdullah al-Azzam Brigades' that is very active in Lebanon (see – Tripoli Bombings).
The first explosion targeted the embassy gates and was caused by a suicide attacker on a motorcycle. A much larger second blast, caused by a suicide attacker in a 4×4 vehicle, struck yards away minutes later as people rushed to the scene.
Iranian embassy sources said that five security guards,  the cultural attache, Ghazanfar Roknabadi and Radwan Fares, a Lebanese national who headed the facility's security, according to a Lebanese official at the Iranian embassy, were among the dead. From previous events such as the  two successful attacks in Argentina's capital Buenos Aires, on 03/17/1992 and 07/18/1994, against the Israeli Embassy and the local Jewish community, it is assumed that the' cultural attache' is actually a representative of the Iranian Intelligence community (see – Operation-Abroad).
Syria's government said the attacks "reek of petrodollars" – a reference to oil-rich Gulf Arab countries such as Saudi Arabia and Qatar that back the rebellion against Damascus.
However, the Abdallah al-Azzam Brigades, a group that has previously fired rockets at Israel from Lebanese territory (see – Gesher Haziv 08.22.13), said it carried out the bombing. "This is a double-martyrdom operation carried out by two heroes from the heroic Sunnis of Lebanon,"  Sheikh Siraj al-Din Zreikat, a member of the group, wrote on Twitter.
"Operations will continue in Lebanon until two demands are met: first, withdrawing Hizbullah members from Syria; second, release our prisoners from jails of injustice in Lebanon."
Fighters from the Shia group Hizbullah, affiliated to the Iranian Revolutionary Guard,  fought alongside Assad's forces in several strategic battles in Syria against mainly Sunni Muslim rebels.
There have been several bomb attacks in Beirut and the northern city of Tripoli linked to the two-and-a-half-year conflict in neighbouring Syria. Eventually the Shiaa community is a minority in the Sunni dominated Mesopotamia – al-Sham in Arabic, and the war in Syria is no longer a war between tyranny and democracy but between Sunnis, backed by most of the Arab World, and Shiites, backed by Iran (see – Shiite Arc). 
The bombings are expected to pull Lebanon further into a conflict that has torn apart the deeply divided country, and came as Assad's troops, aided by Hizbullah fighters, captured a key town near the Lebanese border from rebels.
The Syrian army's border offensive in Kalamoun  is part of a larger government push that started last month and has seen forces loyal to Assad firmly seizing the momentum in the war, taking one rebel stronghold after another.
 * In what have been seen as tit-for-tat attacks, car bombs have targeted Hezbollah-dominated neighborhoods in the southern suburbs of Beirut and Sunni mosques in the northern city of Tripoli. On Friday 12/28/2013, a powerful car bomb killed Mohamad B. Chatah, a former finance minister who was a key figure in the Future Movement, a political group that is Hezbollah's main Sunni rival.   
————————–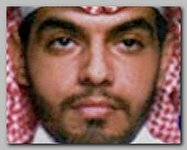 The lebanese  authorities reported, on 01/01/2014,  they have arrested the head of a jihadist group that claimed the suicide bomb attack on Iran's Beirut embassy.  Defence Minister Fayez Ghosn told the AFP news agency that Majid bin Muhammad al-Majid, the Saudi "emir" of the Al Qaeda-linked Abdullah Azzam Brigades, was being held by army intelligence in Beirut. 
 Hizbullah's al-Manar television cited Lebanese security sources as saying that two attacks on army checkpoints outside the southern city of Sidon, on 12/15/2013, had been attempts to free Majid al-Majid. 
The Abdullah Azzam Brigades were led by
Saleh al-Qaraawi
, a Saudi veteran of the Iraqi insurgency, until June 2012. He was succeeded by Majid al-Majid, a Saudi who like Qaraawi was named on Saudi Arabia's list of 83 Wanted List terrorists in 2009. 
 Majid al-Majid has died in custody in a Beirut military hospital, Lebanon's army said on 01/04/2014,  as he was receiving medical treatment, allegedly  gone into a coma suffering from kidney failure.
* Related topics ;  
********************************
 Read more   ; 
–