– 4 GRAD ROCKETS STRUCK NORTHERN ISRAEL
–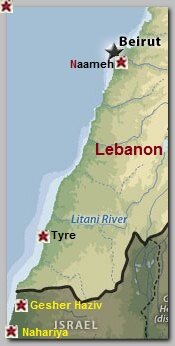 4 Grad 120mm rockets launched by the Jihad Islami from the Palestinian Burj Al-Shamali refugee camp near Tyre, on Thursday 08/22/2013, targeted Northern Israel.   One of the rockets was intercepted by the Iron Dome system, one exploded in a residential area in Kibbutz Gesher Haziv  and two other rockets hit open areas.  None caused casualties, except for three shock victims, but they did cause damage to buildings and vehicles in Kibbutz Gesher Haziv.  Light damage to a street and vehicle in northern Israel was likely caused from fallout from the rocket-defense system. Loud explosions and sirens  were  heard over the coastal town of Nahariya and the Western Galilee (see also – Nahariya 09.11.09).
A Sunni ephemeral group operating also in Syria Abdullah al-Azzam Brigades claimed responsibility for fire (see also – Giuliano D.) . It is assumed that the group was trying to entangle the Hizbullah, the traditional enemy of Israel in Southern Lebanon, in an armed conflict with Israel (see also – Dahiya 08.15.13).
Military spokesman Lt. Col. Peter Lerner  blamed "Global Jihad" elements of being behind the attack, referring to groups either linked to or inspired by Al Qaeda.
Brig. Gen. Yoav Mordechai, a military spokesman, told AP the firing appeared to be an isolated incident that wouldn't become a larger confrontation.  All israeli politicians who did respond  to the event put the blame on the Lebanese sovereign authorities as doing almost nothing to implement their  responsibility  as a sovereign state and an UN member.   
Indeed Lebanese President Michel Suleiman has denied involvement with Thursday's rocket attack, saying, "the firing of rockets towards Israel is a violation of the UN-regulated ceasefire between Israel and Lebanon," Israeli Army Radio reported on Thursday.
The Israeli Air Force struck, in response, a "terrorist" target 7 kilometers south of Beirut early on Friday 08/23/2013 morning, the IDF said in a statement.  Popular Front for Liberation of Palestine, headed by Ahmad Jibril, claim to be target. The Popular front runs an underground fortified compound in Naameh. The target is nowadays partially deserted and outside any residential area. The explosions were heard all over Beirut.
Most of the commentators agree that the purpose of the airstrike was to convey a message to the Hizbullah in Southern Beirut and to the Presidential Palace in Baabda that Israel will not tolerate rocket attacks  from Lebanon to Israel never mind what organization was behind. "Yesterday's attack is a blatant breach on Israeli sovereignty that jeopardized Israeli civilian life. Israel will not tolerate terrorist aggression originating from Lebanese territory" and that "echoes of the blasts could be heard in Beirut." "The strike forms a clear message by the IDF and Israel to decision makers in Lebanon whom we see as responsible for yesterday's rocket attack,"  the IDF said in a statement. 
* Two suspects have been arrested over the recent rocket attack from Lebanese territory into Israel, the Lebanese Army said Saturday 06/31/2013. In a statement, the Army said the two suspects – Youssef Mohammad Fliti and Omar Abdel-Mawla al-Atrash – confessed they had supplied the four rockets used in the Aug. 22 rocket attack into Israel. According to the statement, Fliti and Atrash confessed they had transferred the rockets from the West Bekaa village of Gaza and delivered them to a man in Tyre.
Four wooden launching pads were discovered earlier this month on the outskirts of Hosh village in Tyre. The Army said the suspects were referred to the judiciary and that efforts are under way to detain others involved in the incident.

  
* Related topics ;
–
08/2013 -DAMASCUS GAS ATTACK
08/2013 -THE NEW DIMENSION OF THE MIDDLE EAST
05/2013 -ISRAEL LAUNCHED AIR CAMPAIGN AGAINST HIZBULLAH IN SYRIA
04/2013 -ISRAELI RESORT TOWN OF EILAT HIT BY ROCKETS
10/2012 -HEAD OF INTERNAL SECURITY IN LEBANON ELIMINATED 
**********************
Read more ;  
THESTAR-LEBANON