BBC News
– KHYBER MILITANTS AGREED A DEAL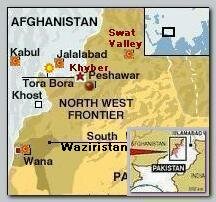 Just two weeks after the Pakistani Army launched the Khyber offensive, on 06/28/2008, the local pro-taliban warlord Mangal Bagh, has struck, on Thursday 07/10/2008, a peace deal with the local administration to end nearly two weeks of fighting. Under the terms of the Khyber agreement, the paramilitary forces will end the operation and release some activists of Mangal Bagh's Lashkar-e-Islam group.
Mangal Bagh and his men will accept the government's authority and not carry arms in Bara town, Mangal Bagh's base.
The USA claims that such peace deals allow militants to flourish but Pakistan's new government is committed to ending militant violence through negotiations.
Pakistan's leading militant, Baitullah Mehsud, who is based in South Waziristan, suspended negotiations with the central government in protest at the military action in the Khyber agency.
* Related topics – 
–
03/2008 -TALIBAN IN PAKISTAN WELCOME TALKS  
01/2008 -PAKISTANI  ARMY POST OVERRUNS BY TRIBESMEN
*******************
Read more ; 
ALERTNET  
« – 6 KILLED IN ISTANBOUL ATTACK