– ABU GHRAIB RELEASE PARTY BOMBED
–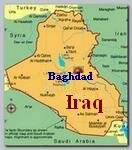 At least 25 people have been killed and about 30 others wounded in Baghdad's Abu-Ghraib district, on Sunday 08/24/2008 late night, after a suicide bomber blew himself up at a feast held by a sheikh Ayyid Salim al-Zubai to celebrate his son's release from a US detention centre.
sheikh Ayyid Salim al-Zubai, a local sheikh in the mainly Sunni area, had invited dozens of guests to the banquet in honor of his son, who had been released earlier in the day from Camp Bucca in southern Iraq, residents and police said.
Aziz Moklif Ghatha al-Zubai, one of the local chiefs of the Awakening Council group who organized the dinner in the district's Al-Zaidan village, was killed in the attack too.
Awakening groups began in the western province of Anbar when Sunni tribal leaders turned on their former Al Qaeda allies in 2006. Al Qaeda has frequently warned that members of Awakening Council groups will be specially targeted because of their co-operation with the USA and indeed dozens of awakening groups leaders were killed and assassinated by Al Qaeda and its allies in Iraq. (See also – Adhamiya 08.17.08)
* Related topics – 
–
08/2008 -21 KILLED IN NORTH IRAQ  
06/2008 -63 KILLED IN BAGHDAD  
03/2008 -IRAQI SUNNI TRIBAL LEADER, AL-KARKHI,  KILLED
*******************
Read more ;