– 28 IRAQI POLICE RECRUITS KILLED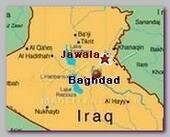 A suicide bomber has struck, on Tuesday 08/26/2008 noon, at an Iraqi crowd of police recruits in northern Diyala province, in the town of Jalawla, killing at least 28 people and wounding 42 others, police say.
As other parts of the country have stabilized over the last year, Diyala – both ethnically and religiously mixed – has remained one of the most violent parts of Iraq.
USA and Iraqi forces have been carrying out several offensives against armed groups there for the last year, saying that Al Qaeda in Iraq has regrouped in the area after being pushed out of other parts of Iraq (see – Abu Ghraib 08.24.08).
In another attack, a blast in the northern city of Tikrit has killed at least four people and wounded six more. A police official says the bomb was planted in a car parked on a street used by local government officials going to work.
On Monday 08/25/2008, the Iraqi police distributed videos of the arrest and public interrogation of a teenage girl after she was allegedly caught wearing an explosives belt. The girl gave her first name as Rania and said she was born in 1993.  29 female suicide bombers committed attacks in Iraq since the beginning of 2008.
* Related topics – 
–
07/2008 -35 KILLED IN BAQUBA, IRAQ
PROFILE -SAMIRA AHMED JASSIM, THE FACE OF JIHAD  
**************
Read more ;  
CNN EDITION