– KISMAYO CAPTURED BY ISLAMIC IMSURGENCE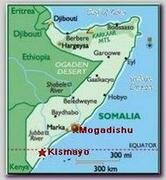 Islamic fighters say they have seized control, on Monday 08/25/2008, of Kismayo, Somalia's third-largest city, after three days of fighting that has left about 70 people dead and led to thousands of people fleeing.
The "Council of Islamic Courts" ( CIC ) said on Sunday that it had wrested control of the southern port city from clan militias a day earlier. CIC forces moved into Kismayo at the request of its residents, and the city "will remain under Islamic control", said sheik Ibrahim Shukri, a spokesman for the CIC, which controlled the capital, Mogadishu, and much of the south for six months in 2006 prior to the Ethiopian-Somali War. The fighting was over the control of the port's income. (see also – Mogadishu 06.08.08)
**Journalists kidnapped –
Two foreign journalists – a Canadian woman and an Australian man – were kidnapped while travelling near Mogadishu, on Saturday 08/23/2008. Journalists and relief workers are frequently abducted for ransoms in Somalia, even those who travel in convoys heavily guarded by freelance armed men.
A report on the website of Canada's National Post newspaper identified the woman as 27-year-old Amanda Lindhout and here Australian boyfriend Nigel. "Council of Islamic Courts" (CIC) denies any involvement in the kidnapping.
* Related topics  –  
–
05/2008 -ROBOW ABDUMANSUR CONFIRMED ADEN HASHI'S DEATH 
04/2008 -FIGHTING BROADEN IN SOMALIA  
****************
Read more ;  
ALERTNET