– 11 PALESTINIANS KILLED BY PALESTINIANS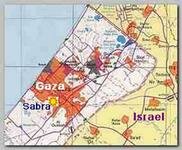 At least 11 people were killed on, Tuesday 09/16/2008, when Hamas-run security forces clashed with pro-Al Qaeda Army of Islam gunmen belonging to the local Durmush clan in Gaza City, Palestinian security officials said. Seven people were also wounded in the fighting.
Hamas forces, responding to the killing of one of their policemen during an arrest raid, on Monday 09/15/2008, raided the clan stronghold in Sabra neighborhood of Gaza City before dawn in search of suspects. Several clan members were killed in ensuing clashes that went on for hours and continued into Tuesday morning, while others were placed under arrest, Hamas officials said.
At least three of those killed were gunmen. A Hamas source said one was a member of the Army of Islam. At least one Hamas policeman was also shot dead in the fighting.
The Hamas-controlled interior ministry said in a statement its security forces resorted to force against "fugitives", including the Durmush clan only "after exhausting all peaceful efforts" to arrest suspects. Police said they seized explosives and weapons during the raid.
The Durmush clan was an ally to the Hamas in kidnapping the Israeli soldiers Gilad Shalit at  06/25/2006 dawn. The Army of Islam also kidnapped the BBC correspondent Alan Johnston on 03/12/2007. Since then Army of Islam and Hamas went through several rounds of fighting in a Hamas effort to restore law and order in Gaza strip. (See – Gaza 07.25.08 , Gaza 09.26.07  )
* Related topics –
2008 –  AWAD AL-QIQ – DR. JEKYLL AND MR. HYDE 

08/2007 – AL QAEDA IN GAZA

 
******************
Read more ;