BBC News
– MORE TERROR SUSPECTS ARRESTS IN U.K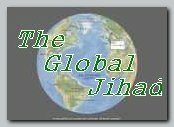 On Wednesday 05/09/2007 the British Police arrested four more suspects in connection with the London 7/7 attack. The suspects are:
*  Hasina Patel, Mohammad Sidique Khan s' widow and her brother Arshad Patel, 30.
* Imran Motala, 22. from Selly Oak.
* Khalid Khaliq, 34, from Tempest Road in Beeston – the street where 7 July Aldgate Tube bomber Shehzad Tanweer lived. 
* Related topics –
Read more ;