– LONDON 7/7 BOMBINGS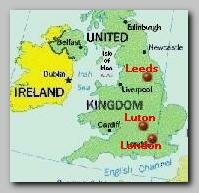 On the morning of 07/07/2005 , the opening day of the G-8 convention in Edinburgh, Scotland, and the day after the public confirmation that London will host the next 2012 Olympic games, four young Muslims from Leeds area, about 200 km North to London, arrived to King's Cross central railway station in London at about 08:30 . 
The four – Mohammad Sidique Khan, 30 the groups' ringleader, Shehzad Tanweer, 22; Hasib Mir Hussain, 18; all from PAKISTANI descent, and Germaine Lindsay, 19; a Jamaican converted to Islam, came with a car from Leeds to Luton, 30km north of London, and took the train from Luton to King's Cross station in London. When they arrived to London at about 08:30, they scattered in the underground public transportation system. One of the four, Hasib Mir  Hussain, took a double-deck bus, probably because he found out that the subway to North London was closed that day for repairs.  The four carried bags with about 5 kg  explosives each and shortly after arriving to London carried out their suicide bombs attack in the London underground tubes. 
Shehzad Tanweer blew himself up on 08:51 in the tube between Liverpool and Aldgate East stations under Edgware Road. A parallel passing train was also damaged. Germaine  Lindsay pressed the trigger of his bomb 5 minuets later on 08:56 after his train left Kings' Cross station toward Russell Square. Mohammad  Sidique Khan detonated his explosives after another 21 minutes on 09:17 near Edgware Road station.  
Hasib Mir Hussain, wandered in the streets of London and tried by cell phone several times to contact Mohammad Sidique  Khan, probably for instruction what to do, but failed. On his own decision he took a double-deck bus that was crowded with people evacuated from the tube and activated his charge at 09:47 at Tavistock Square. That explosion turned to be the most deadly one killing 22 men out of the 52 that perished in this attack.  In addition to the 52 killed in the London 7/7 attack more than 700 were wounded.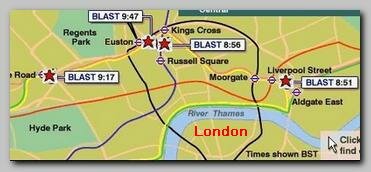 On the very same day at 14:30 in Islamic sites on the internet "The Secret Al Qaeda Organization in Europe" took responsibility on the attack "because of the invasion to Afghanistan".
 Two days later on 07/09/2005 another  organization, Abu Hafes al Masri Brigade (Abu Hafes al Masri was the nick name of Mohammed Atef ) also took responsibility on the attack. This is the same so called organization that took responsibility of the Madrid Trains Bombing and the Double Istanbul attack .
On 09/01/2005 Al Jajeera Arabian TV network in Qatar broadcasted the martyr videotape of Mohammad Sidique Khan alongside another tape with Ayman Al Zawahiri, the acting leader of Al Qaeda, leaving the impression that the attack was sponsored by Al-Qaeda. Another martyr tape of Shehzad Tanweer was broadcast in Al Jajeera on 06/06/2006.           
During the investigation of The Fertilizer 04 Plot in 03/2004 the name of Mohammad Sidique  Khan was mentioned several times but in such a context that did not arise special suspicions at that time.
Both Mohammad Sidique  Khan and Shehzad  Tanweer visited together Pakistan for the last time on 11/19/2004 and came back together to UK on 02/08/2005. In Pakistan Mohammad Sidique  Khan and Shehzad  Tanweer established contact with Haroon Rashid Aswat, a former neighbor of Mohammad  Sidique Khan s' family from Dewsbury, south of Leeds, and an international operative of Al Qaeda. Haroon Rashid  Aswat was in cell phone contact with them more than 20 times in the last hour before the London 7/7 attack. It is most likely that on that opportunity they recorded their Martyrs videos later broadcasted in Al Jajeera. Haroon Rashid Aswat, an assistant to the attack, was arrested after a world wide operation in Lusaka, Zambia on 07/20/2005. 
The explosive used in the attack was a home made Triacetone Triperoxide.  (–  Triacetone Triperoxide is commonly used by the Palestinians in their terror campaign against Israel –)  and a significant amount of explosive material was found in the raids in several places in Leeds when police searched the properties in connection with the suicide bombers. The police experts also determined that one man assembled the four bombs used in the attack – probably Mohammad Sidique  Khan. The same explosives was used by Richard Reid the "Shoe Bomber" when he was caught on 12/22/2001. 
The explosives were produced in an apartment in Leeds rented by Magdi Asdi el-Nashar in mid-June 2005. Magdi Asdi el-Nashar was an Egyptian lecturer in the Leeds University. His phone number was tagged in Hasib Mir Hussain s' mobile phone.  Police raided the flat, finding kilos of explosives and other evidence of a bomb-making operation. Magdi Asdi el-Nashar   traveled to Egypt a day before the London 7/7 attack, was arrested and investigated by the Egyptian Authority and was, finally, released without any charges. The Egyptian Interior Ministry published a report which "made clear there was no link between Magdi Asdi el-Nashar and Al-Qaeda or the London  7/7 bombings". 
In the morning of Friday 03/23/2007 the British Police arrested three UK citizens from PAKISTANI descent in connection with the London 7/7 attack before boarded flights to Pakistan. The three detainees are Mohamed Shakil born in 1977, Waheed Ali born in 1984 and Sadeer Saleem born in 1981, all had previous acquaintance with London 7/7 offenders.  The three were charged on 04/05/2007 in London for planning the London 7/7 bombings and carrying out reconnaissance missions eight months before unleashed their carnage ( See – Leeds Cell ). Mohammad Shakil, Shipon Ullan and  Sadeer Saleem were acquitted, eventually, from all charges, on Tuesday 04/28/2009.   
  * On Wednesday 05/09/2007 the british Police arrested a suspect in connection with the London
7/7 attack,
Khalid Khaliq
, 34, from Tempest Road in Beeston – the street where 7 July Aldgate Tube bomber Shehzad  Tanweer lived.
Summary ;
The London 7/7 attack was, apparently, a self motivated and organized attack by the ringleader Mohammad Sidique  Khan. It seems that he and Shehzad  Tanweer were not recruited to the mission but went to Pakistan, on their own initiative, looking for support, guidance and direction. It is after the attack that Al Qaeda and others took advantage and responsibility for the London 7/7.
** According to a porn Video siezed from Maqsood L. in Berlin, on 05/16/2011, The London  7/7 bombers had closer contacts with Rashid Rauf and were able to contact him and change their bombs so that they worked.
* Related topic –
**************************                         
 Read more ;