– ISLAMISTS SEISED SOMALI'S PARLIAMENT
–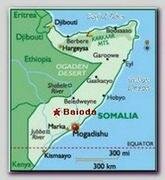 Islamist insurgents have captured, on Monday 01/26/2009, most of Somalia's central city of Baidoa – one of the last strongholds of the fragile transitional government.
Officials and witnesses say Islamists have seized the parliament building in the city, some 250km North-West of the capital Mogadishu. Some reports say the presidential palace is also under their control.
The MPs are currently meeting in neighboring Djibouti, where they are due to elect a new president this week. They have voted to expand parliament to bring some 200 moderate Islamists into parliament and expected to vote on whether to delay the presidential election, which is currently due before Wednesday 01/28/2009.
Islamist insurgents from the al-Shabab, the military wing of the council of Islamic Court (CIC) group entered Baidoa from two different directions on Monday, officials say.
There were reports of heavy fighting in the city. Eyewitnesses said the militants were later seen on the streets of Baidoa, shouting "Allahu Akbar! [God is Great!]".
Negotiations are now under way between the militants and representatives of the transitional government to try to find a peaceful settlement. There has been widespread looting in Baidoa, not necessarily by al-Shabab Troops, since the last Ethiopian troops pulled out overnight.
The Ethiopian troops withdrew after two years of battling Islamist insurgents since the Ethiopian-Somali War. Some 16,000 civilians have been killed in the conflict and a million more have been forced from their homes but, eventually, the situation returned the square one, in when Islamic militants control 60% of Somalia, all the Southern Part south of the Horn of Africa,
Somalia has not had an effective national government since 1991, since when various militias have been battling for control.
* Related topics –  
–
01/2009 -SOMALI EXECUTED FOR APOSTASY  
01/2009 -15 KILLED IN MOGADISHU BLAST  
12/2008 -ISLAMISTS DESTROYING SHRINES IN SOMALIA
************************** 
Read more ; 
.