– BACK TO SQUARE ONE
–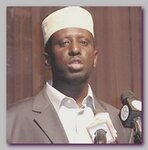 * Sheik Sharif Ahmed , the head of the Council of Islamic Courts (CIC) in Somalia, who was toppled by Ethiopian troops, encouraged by USA, just two years ago, in January 2007, has been sworn in, on Saturday 01/31/2009, as the new president of Somalia just months after his Alliance for the Re-Liberation of Somalia (ARS) signed a peace deal with the Somali transitional government.
The ceremony in neighboring Djibouti on Saturday came after Sheikh Sharif Ahmed won a run-off parliamentary vote. The new president's Islamic Courts movement ruled Mogadishu and most of southern Somalia for six months before being ousted by the Ethiopian military already at the end of 2006.
Sheikh Sharif Ahmed easily defeated Maslah Mohamed Siad, son of ex-president Mohamed Siad Barre, in Saturday morning's second round of voting, winning 293 votes to Siad's 126.
"My government will bring an adequate plan to overcome the difficulties the nation is facing," he said in a brief inauguration speech. "I will deal with the humanitarian situation in the country and give priority to those who have been displaced by war."
Mohamed Nur, a Somali journalist based in Mogadishu, told Al Jazeera people had taken to the streets to celebrate their new president. "They think he is the best leader ever [to be] chosen as president of Somalia since 1960, when the country gained independence," he said.
Sheikh Sharif Ahmed vowed to form a broad government and invited all armed groups in the war-ravaged Horn of Africa nation – Somalia to join the UN-sponsored reconciliation effort and he would reach out to former government leaders as well as to al-Shabab, the former armed wing of the Islamic Courts movement.
Sheikh Sharif Ahmed's other main rival, Nur Hassan Hussein, the prime minister, pulled out of the election following the first round. The Somali transitional parliament held both the presidential vote and the swearing-in ceremony in Djibouti due to instability in its home country.
Al-Shabab has vowed to carry on fighting and already controls much of south and central Somalia, as well as large areas of the capital of Mogadishu. After the swearing-in ceremony, Ahmed was expected to fly to Ethiopia for an African Union (AU) summit before returning to Somalia to put together his government. Abdirahman Abdi Shakur, an adviser to the president's party, said that security was one of the main issues Sheikh Sharif Ahmed would seek to tackle. As part of an agreement brokered by the UN between the opposition and the transitional government, parliament was expanded to 550 seats, with 200 members of Ahmed's ARS group being sworn in earlier in the week.
Another 75 seats are still to be filled by other opposition and civil society groups, as part of an effort to bring former opponents into the government. Ahmedou Ould-Abdallah, the UN's special envoy for Somalia, praised Saturday's "transparent" presidential vote.
The election of Sheikh Sharif Ahmed returned Somalia to square one, to the eve of the Ethiopian-Somali War, which breached out in 12/2006 after USA persuaded Ethiopia with economic and political support to invade Somalia. Eventually all the bloodshed and suffering of two years of cruel guerilla war between Ethiopian troops and Islamic insurgency resulted in almost nothing (see – Triple disaster).
* Related topics – 
–
11/2008 – SOMALIA – THE THIRD  WAR 
01/2009 -SOMALI EXECUTED FOR APOSTASY  
************A*************
Read more ;