– PAKISTAN, MILITANT CELL UNCOVERED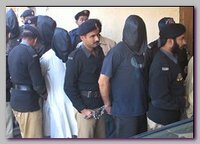 Nine Pakistanis have appeared, on Friday 01/30/2009, in court in Rawalpindi in connection with high-profile Danish Embassy Attack, On Monday 06/02/2008, and the Italian Luna Caprese Restaurant, on 03/15/2008 (see – Luna Caprese 03.15.08).
Pakistani police said the nine were suspected Al Qaeda operatives who were arrested, on Thursday 01/27/2009, in the city.
The nine were charged under anti-terror laws and were remanded in custody. Police have hailed the arrests as one of their biggest breakthroughs in their anti-terrorism operations.
Rawalpindi police chief Rao Mohammad Iqbal told Reuters the men were also suspected of involvement in the killing of the military's top medical officer, Lt Gen Mushtaq Baig, last year and two other attacks.
Mr Iqbal said police had recovered 100kg (220 lb) of explosives from the suspects, who were believed to be planning an attack on Pakistan's National Day parade on 23 March 2009.
The men were being investigated for links with Al Qaeda and with Baitullah Mehsud, the leading Pakistani Tehrik-e-Taleban commander.
* Related topics –  
–
01/2009 -SCHOOLS BLOWN UP BY PAKISTANI TALIBAN 
08/2004 -ISLAMABAD AL QAEDA CELL
***********************
Read more ;