– MORE US TROOPS TO AFGHANISTAN
–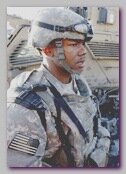 President Barack Obama has authorized, on Tuesday 02/17/2009, the deployment of up to 17,000 extra USA troops to Afghanistan, saying they are to "meet urgent security needs".
Two brigades, originally scheduled to go to Iraq, – one army and one marine – are to be sent to Afghanistan. During his election campaign Barack Obama promised to withdraw US combat troops from Iraq within 16 months after becoming president.
This first major troop deployment under Barack Obama comes as his administration reviews USA policy in Afghanistan. Barack Obama has vowed to focus US military efforts on fighting the Taliban in Afghanistan, rather than on Iraq (see – Toughest Challange).
A senior White House official was quoted by Reuters as saying that a decision on cutting USA troop levels in Iraq would be taken within "weeks". The additional troops are to be sent before warmer weather brings an expected increase in fighting in Afghanistan, USA defence officials said.
The deployment will be made up of 8,000 marines, and 4,000 army soldiers, plus another 5,000 support staff. They will serve in the south of Afghanistan, where the violence has been worst. US commanders in Afghanistan have requested 30,000 additional troops.
"The 2nd Marine Expeditionary Brigade from Camp Lejeune, North Carolina, with approximately 8,000 marines will deploy to Afghanistan in late spring 2009," said a statement from the Pentagon.  "The 5th Stryker Brigade, 2nd Infantry Division from Ft Lewis, Washington, will deploy approximately 4,000 soldiers to Afghanistan in mid-summer 2009. "Approximately 5,000 additional troops to support these combat forces will receive deployment orders at a later date."
The US already has about 14,000 troops serving with NATO-ISAF. There are also 19,000 USA troops under sole US command charged with fighting Taliban and Al Qaeda insurgents.
The announcement came after the UN said that the number of civilians killed in the conflict in Afghanistan rose by 39% last year.
Militants were to blame for 55% of the 2,118 civilian deaths, while USA, NATO-ISAF and Afghan forces were responsible for 39%, according to the UN report – the highest number since the Taliban were ousted in 2001 (see also – Kapisa 01.20.09 ).
* Related topics –  
–
02/2009 -AFGHAN DELEGATION JOINS POLICY REVIEW 
01/2009 -THE AFGHAN FAILING  STATE
************************
Read more –