– NEW AFGHAN CIVILIANS DEATH PROB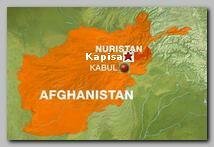 The USA military in Afghanistan is investigating reports that up to 25 civilians were killed in an operation in Kapisa, 50km (30 miles) north of Kabul, onTuesday 01/20/2009. The USA had said a Taliban commander and 18 militants died in Kapisa province.
US Central Command chief Gen David Petraeus has been meeting President Hamid Karzai, who has urged Western troops to reduce civilian casualties. New US President Barack Obama has backed a 30,000-strong troop surge for Afghanistan this year.
On Wednesday, US spokesman Col Greg Julian said the coalition would investigate villagers' claims that 25 civilians had been killed.
A senior government source said that Mullah Patang, a Taliban commander, had been killed along with three bodyguards, but added that a number of other locals had also died in the operation. He said Mullah Patang had been dining with local people in the village of Inzeray in Tagab district when the house he was visiting was struck. According to the official, US special forces had been dropped from helicopters, before calling in air support.
Kapisa is a strategically important province, near Bagram air base and close to the Kabul-Jalalabad highway. Afghan officials say the district is frequently used by militants as a stopover on their way to carry out attacks in the capital.
Deputy police chief for Kapisa, Naimatullah Hakimi had earlier said meetings were held with elders to find out who died and he insisted that "no civilians were killed".
* Related topics –  
–
01/2009 -GERMAN EMBASSY IN KABUL DAMAGED BY EXPLOSION 
01/2009 -ATTACKS RENEWED ON NATO SUPPLY 
***********************
Read more ;