– THE INHERITANCE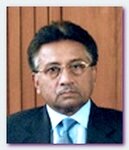 * David E. Sanger is the chief Washington correspondent for The New York Times. In twenty-six years at the Times, he has been a member of two teams that won the Pulitzer Prize and has received numerous awards for investigative, national security, and White House reporting.
On Sunday 02/15/2009 the Times of London published a brief of David Sanger's last book, "The Inheritance", in which he directly blamed the former Pakistani President Pervez Musharraf of playing a "double game" with USA in regard on the "War on Terror".
David Sanger takes readers into the White House Situation Room to reveal how Washington penetrated Tehran's nuclear secrets, leading President Bush, in his last year, to secretly step up covert actions in a desperate effort to delay an Iranian bomb. Meanwhile, his intelligence chiefs made repeated secret missions to Pakistan as they tried to stem a growing insurgency and cope with an ally who was also aiding the enemy–while receiving billions in American military aid. Now, according to the book, the new president faces critical choices: Is it better to learn to live with a nuclear Iran or risk overt or covert confrontation? Is it worth sending USA forces deep into Pakistani territory at the risk of undermining an unstable Pakistani government sitting on a nuclear arsenal? It is a race against time and against a new effort by Islamic extremists–never before disclosed–to quietly infiltrate Pakistan's nuclear weapons program (see – IRANIAN SCENARIO).
David Sanger repeated the blame, already made by the New York Times, on 12/24/2007, that Pakistan under Pervea Musharraf diverted about $5bn military aid to Pakistan designated to help Pakistani Army in the CIVIL WAR against the Taliban, to weapons systems designed to counter India in Kashmir (see – US MONEY). 
The real revelation of David Sanger's book is not the ambiguousness of Pakistan and the negative role of its intelligence service – ISI in distributing terror in the Indian subcontinent, Afghanistan and, eventually, also the whole world  but the deep penetration of USA intelligence into the ranks of Pakistan's leadership and the impact of that Intelligence on USA policy (see – ANBIGUOUS PAKISTAN ).
Before the INDIAN Embassy Bombing in Kabul, on 07/07/2008, which CIA claimed was perpetrated by ISI, the National Security Agency (NSA) managed to intercept, in 05/2008, secure phone calls of the Pakistan's army chief Gen. Ashfaq Kayani in which he  described Jalaluddin Haqqani, a senior Tehrik-e-Taleban commander, a "Strategic asset" to Pakistan. NSA also intercepted numerous phone calls between Pakistani generals and Taliban commanders in which the Taliban were warned from "army raids" on Taliban strongholds.
The intelligence gathered in Pakistan brought a change of strategy in which classified order had been made in 08/2008 (see – Bush 2008 approval). The order includes the use of UAV drone attacks to pursue militants in Pakistan territory, the usage of Special Forces in border crossing operations into Pakistan to pursue militants there and to exclude Pakistan from sensitive classified information since that information was leaked to the Taliban.
The former Pakistani president Pervez Musharraf responded, on Monday 02/16/2008, generally, that such allegations were part of a malicious campaign designed to defame Pakistani Army and intelligence agencies.
* Related topics –  
–
01/2009 -PAKISTAN AT RISK OF COLLAPSE  
02/2009 -PAKISTAN FIGHTING FOR SURVIVAL  
02/2009 -YET ANOTHER TRUCE WITH TALIBAN 
***********A***********
Read more ;