– 12 KILLED IN IRAQ MARKET BLAST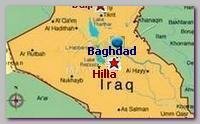 At least 12 people have been killed and more than 40 wounded in a bomb blast, on Thursday 03/05/2009, near a livestock market in, Hilla, a rural, mainly Shiaa town, in Iraq. A car bomb exploded as people were buying and selling cattle in the busy market in Hamza, near the city of Hilla, in Babil province, some 130km (75 miles) south of Baghdad. police said (see also – Hilla and Baiji ).  
This is one of the biggest attacks in Iraq in recent months, in a part of the country that was relatively peaceful.  Although Iraq has been hit by a spate of attacks in recent weeks, the level of violence is much lower than it was. Several policemen are thought to have been among the casualties.
In a separate incident, gunmen in the capital Baghdad shot at an interior ministry general, Salaam Salman, critically wounding him and two bodyguards.
Violence abated in Babil partly because former Sunni rebels had joined so-called Awakening Councils and turned against Al Qaeda militants. The US military handed over control of security in the province to Iraqi forces in 10/2008.
However, the level of violence remains much lower than in the past. For instance, just over 250 Iraqis were killed in February of this year, compared with 3,000 violent deaths reported in February 2007.
The fear is that the number of attacks could begin to rise again, our correspondent says.
* Related topics – 
–
02/2009 -SHADOW AL QAEDA 'OIL MINISTER' CAPTURED 
02/2009 -LAWMAKER IN IRAQ BEHIND TERROR IN IRAQ  
*****************************
Read more ;