BBC News
– POLICEMEN KILLED IN PAKISTAN
–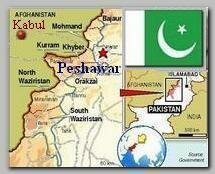 At least 8 people, including 5 policemen and 2 paramilitary soldiers, have been killed in a car bomb blast in Pakistan's northwest city of Peshawar, on Saturday 03/07/2009, officials say (see also – Peshawar 01.22.09 ).
An anonymous caller alerted the police that a suspicious car was parked on a roadside with a dead man's body inside, but it was a trap.  The blast occurred as the police went to check a suspicious car parked by the side of a road. It appears that the bomb was detonated by what appears to be remote-controlled device. Police officials said that it could have been a suicide bomb attack.
There have been regular battles with armed fighters in the north-west, particularly in the Swat valley (see – Swat Truce II) and in the tribal region of Bajaur (see – Bajaur-offer ).
* Related topics –  
–
02/2009 -PIOTER STANCZAK BEHEADED BY TALIBAN  
02/2009 -OVER 30 KILLED IN PAKISTAN BLAST
*****************************
Read more ;  
– SUFI SHRINE BLOWN UP BY TALIBAN »