– LONDON 7/7 SUSPECT ARRETSED IN PAKISTAN
–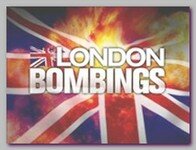 Seven suspected Al Qaeda members have been arrested during a raid near Pakistan's north-western city of Peshawar, officials said, on Thursday 01/22/2009.
One of them, identified as Zabi ul-Taifi (from Taif in Saudi Arabia), is suspected of involvement in the London 7/7 attacks in 2005. A UK Foreign Office spokesman said: "We are investigating the reports."
Unnamed intelligence officials were quoted by the Associated Press and Reuters news agencies as saying that the raid on the house of an Afghan refugee on the outskirts of Peshawar stemmed from a tip from US officials. The officials said the men were believed to have planned attacks on convoys of trucks carrying supplies to Western forces in Afghanistan. Two or three of the arrested persons are said to be ethnic Arabs, while the rest are Afghans.
A resident of Bara Qadeem village where the raid took place told Reuters that he saw some "goras" – a term usually used in the Indian subcontinent to refer to white-skinned westerners – observing the raid.
"They came in a black car with tinted glass, but did not take part in the operation," the man said.
Earlier this month, USA and Pakistani sources said that Al Qaeda operations chief in Pakistan, Usama al-Kini from Kenya, and another top aide had been killed by a missile fired from a US drone near the Afghan border (see – Karikot 01.01.09).
The lawless tribal areas – FATA on Pakistan's border with Afghanistan are considered a sanctuary for the insurgents. The US claims the militants regularly cross over the porous border into Afghanistan where the US troops have been fighting since 2001.
* Related topics – 
–
01/2009 -PAKISTAN AT RISK OF COLLAPSE 
01/2009 -SCHOOLS BLOWN UP BY PAKISTANI TALIBAN  
01/2009 -ATTACKS RENEWED ON NATO SUPPLY 
11/2008 -U.K FUGITIVE KILLED IN NORTH WAZIRISTAN
***********************
Read more ;