BBC News
– AFGHAN PM KILLED IN HELMAND
–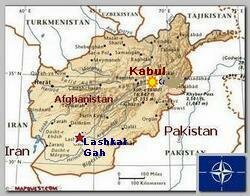 An Afghan member of parliament and four other people have been killed, on Thursday 03/19/2009, by a roadside bomb in the southern province of Helmand, officials say. The MP, Dad Mohammad Khan, was a former head of the intelligence service in Helmand. A senior local police official was also among the dead.
Police officials said the attack happened as the vehicle was travelling to provincial capital Lashkar Gah. No-one has yet took responsibility on the attack.
Dad Mohammad Khan left Afghanistan during Taliban rule but returned after operation Absolute Justice, in 11/2001.
In a separate incident, the international coalition said two militants had been killed and 22 detained by Afghan forces in two raids in the east of the country. 
* Related topics –  
–
01/2009 -20 POLICEMEN KILLED BY TALIBAN  
08/2007 -GOVERNER KHAIRUDDIN KAKA KILLED
**************************
Read more ;