– ABU SAYYAF TO FREE AID WORKERS
–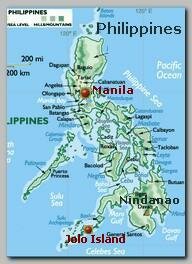 Fighters holding three Red Cross workers hostage in the southern Philippines have agreed to release one of their captives, on Thursday 03/19/2009, in return for the military pulling back its forces in the Southern Island of Jolo, officials have said.
The army said it had agreed to the move in exchange for a pledge from a commander of the Abu Sayyaf group to free one of the aid workers it kidnapped more than two months ago. "We will reposition our troops as necessary to allow the exhaustion of other peaceful means for the safe release of the victims," Ernesto Torres, a military spokesman, said in a statement.
He said the safety of the aid workers, who have been held hostage on the southern island of Jolo, "remains the paramount concern".
The aid workers – Swiss national Andreas Notter, Eugenio Vagni, from Italy, and Mary Jean Lacaba, a Filipino national – were kidnapped on 01/15/2009 and are believed to be held hostage by the Abu Sayyaf in the Island of Jolo. The four are employees of ICRC (International Committee of the Red Cross]
Earlier a man claiming to be Albader Parad, an Abu Sayyaf commander, had threatened, in a radio interview to behead one or all of the aid workers if the military launched a new attack on his group.
Earlier this week a series of intense clashes broke out on the southern island of Jolo between soldiers and fighters thought to be holding the hostages.
The military said up to nine people, including three soldiers, were killed and dozens wounded but it said the fighting was not an attempt to free the hostages. They said the clashes broke out when the fighters tried to break out of a military cordon around the area.
Military officials said they later found a tent belonging to the three aid workers.
Abu Sayyaf has specialized in kidnapping of foreigners, businessmen and religious workers over the past decade. See –  Palawan Hijacking ; Sipadan Hijacking .
–

* Eugenio Vagni, the Italian citizen, was, eventually, freed on Saturday 07/11/2009, in unclear circumstances, and returned safe to Manila on Sunday.
Eugenio Vagni, in Manila airport  extended his condolences to the families of several soldiers who died in clashes with Abu Sayyaf fighters during operations to track him down in the jungles of Jolo island.
* Related topics – 
–
02/2009 -MUAWEYA MASABPI ARRESTED IN THE PHILIPPINES  
03/2008 -3 MILITANTS ARRESTED IN MANILA
**************************
Read more ;