– 5 U.S SOLDIERS KILLED IN MOSUL
=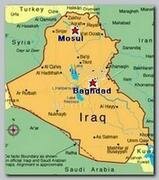 Five US soldiers were among seven people killed by a suicide bomber in the Iraqi city of Mosul, on Friday 04/10/2009, the USA military says. This is the largest number of US troops to die in a single incident for months.
The blast happened when a bomber drove a truck laden with explosives into a police station. Two Iraqi policemen were killed and 20 others hurt, the US said. Iraqi reports said as many as 70 people were hurt. Reports said the bomber made a sharp turn as he neared the station and charged the truck through an iron fence, careering into a sandbagged wall beyond
USA and Iraqi officials describe Mosul as Al Qaeda in Iraq's last major urban stronghold in the country. Mosul is one place where insurgents have defied USA and Iraqi government efforts to restore control.  
Two people suspected of involvement in the attack had been detained, the USA military added.
Iraqi security officials reported two separate incidents earlier in the day where roadside bomb attacks near Baghdad killed three people and injured seven others.  The first explosion hit a family Diyala province northeast of Baghdad, killing a woman and wounding her husband and two children. Two other civilians were killed and another four were hurt in a similar attack in the town of Yusifiyah south of Baghdad.
* Faruq Muhammad Isa, who orchestrated the attack, was captured in Canada on Wednesday 01/19/2011. 
 * Related topics – 
–
01/2009 -35 PILGRIMS KILLED IN IRAQ  
************N***************
Read more ;