BBC News
– 11 IRAQI POLICEMEN KILLED IN KIRKUK
–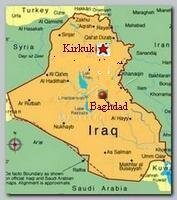 Eleven Iraqi policemen have been killed and 23 people wounded in a car bomb attack in the northern Iraqi city of Kirkuk, on Wednesday 04/15/2009.
Those killed had been protecting an oil installation, police officials told the AFP news agency. There were many civilians among the injured and the death toll was preliminary and was likely to rise.
Kirkuk is the centre of northern Iraq's oil industry, and home to a volatile mix of Kurds, Arabs and Turkmen.
Officials said the attack seemed to have been targeting a police convoy assigned to protect Iraq's northern oil infrastructure.
A police spokesman said those killed were travelling through a southern neighbourhood of the city when the bomb, which was planted in a parked car, exploded.
* Related topics –  
–
*************N**************
Read more ;