BBC News
– AN IRAQI SOLDIER KILLED 2 US SOLDIERS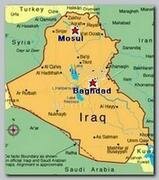 A man wearing an Iraqi army uniform has shot dead two USA soldiers and injured three others, on Saturday 05/02/2009 at about 22:00, in a military base Hamam al-Alil, 20 km (13 miles) south of Mosul.
The US army said the man was also killed in the incident but gave little information about the attack.  But Iraqi military reports said he was a rogue soldier also working as an Imam at a mosque on the base.
No motive was given for the attack but Mosul is seen as the last remaining urban stronghold of Al Qaeda in Iraq.
An attack in February – in which an Iraqi policeman shot and killed a US soldier and an Iraqi translator – was described then as "an anomaly".
************-N-*************
Read more ; 
« – INDIAN MOHAMMED NIZAR ARRESTED FOR TERROR