BBC News
– 17 DETAINED IN BILBAO, SPAIN
–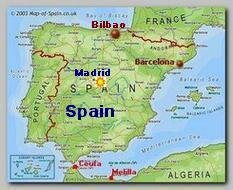 Spanish police detained 17 northern Africans early Wednesday 05/20/2009, on charges including possible links with MAGHREB al-Qaeda, police sources said. The suspects, who were reported to be Moroccans and Algerians, were held in the Basque city of Bilbao.
The charges against them included drug trafficking, robberies and falsifying documents. It was suspected that they used their criminal earnings to finance Al Qaeda in the Islamic Maghreb, which is the northern African arm of Al Qaeda.
* The Spanish police often blamed crime gangs of North Africans of financing, directly or indirectly, terror activities abroad.
* Related topics –  
–
02/2009 -13 ARRESTED IN SPAIN LINKED TO TERROR  
01/2009 -SPAIN ARRESTED 6 PAKISTANIS OVER FRAUD  
11/1008 -TWO SPANISH SOLDIERS KILLED IN AFGHANISTAN
**************N***************
Read more ;