– DOZENS KILLED IN BAGHDAD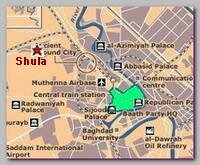 At least 41 people have been killed and more than 76 others wounded after a car bomb exploded near a popular restaurant in Baghdad, on Wednesday 05/20/2009 at about 19:00, the Iraqi capital, police and hospital officials have said.
The blast went off in the district of Shula, a mostly poor, Shiaa area, "The explosion happened around a number of restaurants and retail shops… when the streets were filled with people", one official at Iraq's defense ministry said. All casualties were civilians
No group claimed responsibility for the attack, but the method and location, a crowded Shiaa neighborhood, was similar to previous attacks by Al Qaeda in Iraq.
Shula was also targeted by bombers on 12/25/2008, killing four people.
The last large-scale bomb attack in Iraq was on 04/29/2009, in which 51 people were killed in twin car bomb attacks in the Shiaa Sadr City district of Baghdad (see – Sadr City 04.29.09).
Recent blasts have raised concern about security in the capital ahead of a June 30 deadline for the US to remove all combat forces from Baghdad and other Iraqi cities.
* Related topics – 
–
***********-N-***********
Read more ; 
–