– MUHAMMAD AL-ZAWAHIRI
–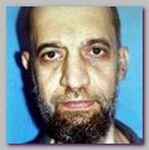 * Muhammad Al-Zawahiri, the younger brother of Ayman Al Zawahiri, was born in Egypt in 1953.
In 1974 Muhammad Al-Zawahiri graduated the engineering college at Cairo University and then moved to Saudi Arabia and took work with a construction firm.  
In 1981, his name was among those indicted in absentia for the assassination of the Egyptian President Anwar Saadat, on 10/06/1981, but he was found not guilty of the charge.
Muhammad Al-Zawahiri joined the World Islamic Relief Organization, an , and traveled to Indonesia, Bosnia and Malawi where he helped build schools and medical clinics.
Married with six children, he moved in the early 90s' to Yemen with his family, and then, in the mid 90s', joined his older brother, Ayman Al Zawahiri in Khartoum, the capital of Sudan, where Jihadi activists begun to congregate. But after the group was forced to leave, following the execution of the teenaged son of Ahmad Salamah Mabruk, Ayman went to Afghanistan while Muhammad Al-Zawahiri took his family back to Yemen and began working with engineering contractors.
In 04/1999 Muhammad Al-Zawahiri was arrested in Yemen and extradited to Egypt following information obtained from the ALBANIAN-TRIAL in Cairo. 
Muhammad Al-Zawahiri's wife didn't contact the Egyptian embassy in Sanaa until 10/1999, and they confirmed his arrest. She was granted permission to return to Cairo with the children and was detained and interrogated for three days before being released.
His younger brother, Hussain Al-Zawahiri, was arrested while driving to work, when working at Multidiscovery, a Malaysian construction firm in late 1999 in a joint operation involving the CIA, Egyptian intelligence and Malaysian security forces.
For several years, no news were released on Muhammad Al-Zawahiri and his family presumed he had been executed in accordance with the sentence from the trial. In 10/2001, the United States requested a sample of his DNA to match against bodies found in Afghan caves hoping to identify one of the bodies as belonging to his older brother Ayman Al Zawahiri. 
In 02/2004, the Sharq al-Awsat newspaper announced that they had discovered Muhammad Al-Zawahiri was still alive and being held in Tora prison, which was confirmed the following month by the Egyptian Interior Ministry, who added that he could be visited by his family.  In 03/2004 It was discovered that he had been beaten and tortured for nearly fives years by the Internal Security Service, known as the Mukhabarat (a name used for all internal security services in the Arab World). Egypt announced they were re-convening a new tribunal to look at his case.
In 04/2007, Muhammad Al-Zawahiri and other Islamists pushed for a review of their sentences. He was represented by the lawyer Montassser al-Zayat, who specialized in such cases and was, himself, arrested for 3 years following Anwar Saadat Assassination, on 10/06/1981, although he was never convicted.
It is reasonable to believe that Muhammad Al-Zawahiri was kept in jail mainly in order to put pressure on his brother Ayman Al Zawahiri – the acting leader of Al Qaeda.
Muhammad Al-Zawahiri was among few hundred radical Muslims who were realized from Egyptian jail in 03/2011, following EGYPTS REVOLUTION of 02/2011. He was rearrested on Tuesday 03/22/2011 but released again aftar a year in early 2012.  Muhammad Al-Zawahiri became one of the leaders of the bloody Salafists demonstrations against the Egyptian Supreme Military Council in early 05/2012, which claimed the life of over 20 protesters calling to put an end to Military rule in Egypt (see – EGYPTS CHANGEOVER).   Muhammad Al-Zawahiri was rearrested by the Egyptian army, on 08/17/2013, at a checkpoint in Giza, the city across the Nile from Cairo, following security measures in the aftermathe of EGYPTS III REVOLUTION.
* Related topics –  
–
THE EGYPTIAM ISLAMIC JIHAD
*********************************
Read more ; 
CAGEPRISONERS