– ZAWAHIRI DNOUNCED OBAMA'S VISIT TO EGYPT
–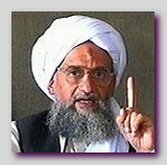 * Ayman Al Zawahiri, the acting leader of Al Qaeda, devoted his political activity to oppose USA interference in the Middle East. For him the visit of USA President Barack Obama in his homeland Egypt, scheduled to Thursday 06/04/2009,  is a personal defeat. 
No wonder that an odio message, posted in the web on Tuesday 06/02/2009, attributed to Ayman Al Zawahiri has denounced Barack Obama as a "criminal" on the eve of the US president's Middle East trip. Ayman al-Zawahiri said Mr Obama's "bloody messages" would not be concealed by "polished words" (see also – Audio 02.03.09).
Ayman Al Zawahiri said Mr Obama would not be welcome in Egypt, and referred to USA campaigns in Iraq and Afghanistan. Mr Obama's "bloody messages have been received and are still being received and they will not be covered by public relations campaigns or theatrical visits or polished words", he said.
He called Mr Obama "that criminal who came seeking, with deception, to obtain what he failed to achieve on the ground after the mujahideen ruined the project of the Crusader America in Iraq, Afghanistan, and Somalia".
Ayman Al Zawahiri also said the Egyptian officials who will welcome the American leader are "slaves" who have turned Egypt into an "international station of torture in America's war on Islam".
* Related topics – 
–
03/2009 -ZAWAHIRI CALLED SUDAN PRESIDENT TO "REPENT" 
02/2009 -ZAWAHIRI- NO TURCE WITH ISRAEL
01/2009 -ZAWAHIRI URGED MUSLIMS TO ATTACK ISEAEL
***************-N-****************
Read more ;