– TALIBAN LEADER MULLAH MANSUR KILLED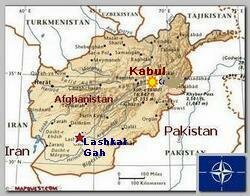 One of the most dangerous Taliban leaders in Afghanistan, Mullah  Mansur, has been killed by British forces in a helicopter attack, the Ministry of Defence said on Tuesday 06/02/2009.
Mullah  Mansur is believed to be behind a number of suicide bombings that have claimed British lives in and around Lashkar Gah in Helmand Province.
Mullah  Mansur and several accomplices died in a "precision strike".  Mullah  Mansur, who created and supplied improvised explosives – was, according to the British forces in Helmand, one of the most dangerous men in Helmand.
"The death of Mullah  Mansur is the latest in a series of prominent insurgent commanders and signals another serious blow to the insurgency." A military spokesman said.
Mullah  Mansur was killed by UK Apache helicopters in the early hours of 06/01/2009 in an isolated area near Nahr e Saraj, north east of Lashkar Gah, during an entirely British operation.
Mullah  Mansur was known to have strong links to insurgent commanders from the Baluch tribe in the south and acted as the link between the insurgency in the south and central Helmand.
Helmand government spokesman Daoud Ahmadi said Mansur was the aviation minister in the Taliban regime that was ousted by the USA-led invasion in 2001 (Operation Absolute Justice).
* Related topics –  
–
10/2008 -TALIBAN AMBUSHED IN LASHKAR GAH
*************N**************
Read more ;