– AYMAN AL-ZAWAHIRI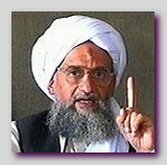 Ayman al Zawahiri
was born in 06/19/1951 in Cairo, Egypt, to a middle class family. At the age of 14 Ayman al Zawahiri began to attend meetings of the Muslims Brotherhood. Ayman al Zawahiri graduated in 1974 in Cairo University as a Medical doctor in 1974.

 
In 1979 dr' Ayman al Zawahiri became, along withe  Muhammad al-Salam Faraj and Karam Zuhdi, one of the leaders of the extreme EGYPTIAN Islamic Jihad. After the assassination of the Egyptian President Anwar Saadat by Khalid El-Islambouli, on 10/06/1981, Ayman al Zawahiri, like many other Islamic jihad militants, was arrested and later sentenced to 3 years in jail (see the case of Essam al-Qamari).
 Ayman al Zawahiri was released from jail in 1985. He left Egypt to Afghanistan via Saudi Arabia. In Afghanistan Ayman al Zawahiri got acquaintance to Osama Bin Laden and Dr' Abdullah Azzam.
After the war in Afghanistan, in 1990, Ayman al Zawahiri returned to Egypt and divided his time between rebuilding the Islamic Jihad network in Egypt and fund raising for the cause, specially the wars in Bosnia, Chechnya and Palestine. In his campaign Ayman al Zawahiri also visited Muslim communities all over USA several times.
In the end of 1996 Ayman al Zawahiri was arrested in Russia, along with Ahmad Salamah Mabruk and a third operative Mahmud Hisham al-Hennawi, with four different passports, on suspicion that he tried to recruit volunteers to the war in Chechnya.  In spring 1997 Ayman al Zawahiri was sent free from the Azerbaijani border to Iran and probably continued from Iran to Afghanistan. The Egyptian authority blamed Ayman al Zawahiri in taking an essential role in the Luxor Massacre on 11/17/1979 of young police recruits and he was sentenced to death in absentia in 1999. Ayman al Zawahiri never returned to Egypt.
On 02/23/1998 Ayman al Zawahiri, Osama Bin Laden, Rifaai Taha, Maulana Fazlur Rehman Khalil and Sheikh Mir Hamza, secretary of the Jamiat-ul-Ulema-e-Pakistan, issued a Fatwah (an Islamic religious statement) under the title "The World Islamic Front for Jihad against the Jews and Crusaders" through the Al Quds Al Arabi news paper in London. The Fatwah was a war declaration against the West, the Jews and against all those who fight true Muslims in the world.  The Fatwah became the Al Qaeda manifest. Ayman al Zawahiri also announced the unification of the EGYPTIAN Islamic Jihad with Al Qaeda. Intelligence sources claim that Ayman al Zawahiri was the real brain of Al Qaeda.
After The 9/11 the USA invaded Afghanistan in operation " Absolute Justice " on 11/2001 but Ayman al Zawahiri managed to escape. Since " Absolute Justice "   Ayman al Zawahiri, frequently, is referring to actual events by well edited videotapes broadcasted every few weeks, while Osama Bin Laden broadcasts, rarely, an audiotape. It indicates that Ayman al Zawahiri is the active head of Al Qaeda. 
On 01/13/2006 USA launched an air strike near Damadola in Pakistan, close to Afghanistan border, in order to kill Ayman al Zawahiri. Many victims were buried under the ruins without being identified but Ayman al Zawahiri was not among them as he continued to broadcast (see – Damadola Fiasco).
To day (01/2007) Ayman al Zawahiri  is still healthy, somewhere in the mountains FATA region on the northern border between Pakistan and Afghanistan.
 * Two younger brothers of Ayman Al-Zawahiri were arrested in 1999 and are since then in Egyptian jail. Muhammad al-Zawahiri was arrested in Yemen in 04/1999 and Hussain al-Zawahiri, was arrested while driving to work, when working at Multidiscovery, a Malaysian construction firm in late 1999 in a joint operation involving the CIA, Egyptian intelligence and Malaysian security forces.

*

Ayman al-Zawahiri was elected as head of Al Qaeda, following the death of Osama Bin Laden by U.S Navy Seals on 05/02/2011 in Abbottabad Raid (see – Zawahiris Nomination ). 
* Related topics  –  
09/2008 -ZAWAHIRI'S  ENIGMA 

11/1995 -ISLAMABAD'S EGYPTIAN ENBASSY BOMBING 

PROFILE -ABDUL HADI  AL-IRAQI 
Read more ;