– CARLOS BLEDSOE ABDULHAKIM ARRESTED IN US
–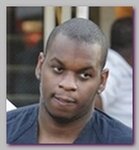 One Army recruiter died and another was injured when a Muslim convert, Abdulhakim Mujahid Muhammad, who said he was opposed to the USA  military shot the soldiers in Little Rock, on Monday 06/01/2009, police say.
Carlos Bledsoe, 24, of Little Rock, who changed his name to Abdulhakim Mujahid Muhammad, on 04/23/2009, was arrested on 16:30 shortly after the soldiers were shot outside a recruiting office about 10:30 a.m. CT, police said.
"This individual appears to have been upset with the military, the Army in particular, and that's why he did what he did," Little Rock Police Lt. Terry Hastings said. "He has converted to (Islam) here in the past few years. To be honest, we're not completely clear on what he was upset about. He had never been in the military". Investigators believe there were "political and religious motives" in the shooting.
Police recovered three guns from Muhammad's black Ford SUV: an SKS semi-automatic rifle, a .22-caliber rifle,  a pistol, several rounds of ammunition, two homemade silencers, handwritten notes in Arabic, CDs with handwritten Arabic labels, a computer and cell phones.
Carlos Bledsoe was already arrested for 4 months in 02/2004, at the age of 18, when the police found a variety of guns in his car. He admitted the guns were his. Eventually the charges were dropped for an unknown reason in 06/2005, and he was released without any criminal record (which suggests that he reached a sort of a deal with the authorities). 
Carlos Bledsoe had been under investigation after visiting Yemen recently, a federal law enforcement official said. According to his lawyer – experience with Afghan child refugees missing limbs drove him to become more radical while working, in Yemen, in human aid and public service. Also According to his lawyer, Abdulhakim Mujahid Muhammad was arrested in Yemen for unknown reasons (probably because of his radicalization).  He begged for FBI agents to free him from a Yemeni jail where he was "tortured" and "radicalized" by Islamic terrorists.
In his investigation Abdulhakim Mujahid Muhammad said, on Tuesday 06/02/2009 he was angry over the treatment of Muslims and pleaded not guilty. He "stated that he was a practicing Muslim … that he was mad at the U.S. military because of what they had done to Muslims in the past," homicide detective Tommy Hudson said in a police report. 
A leader of the Muslim community in Little Rock said he did not know Carlos Bledsoe.
Abdulhakim Mujahid Muhammad fits to the growing phenomena in the Western Democracies of self and home made Muslim terrorist, often converters, without any background or affiliation to any militant organization, who act on their own (see – Terror changes). 
* Abdulhakim Mujahid Muhammad (Carlos Bledsoe) wrote letters from prison to a newspaper in Memphis saying that he had planned a large-scale attack before his arrest, the Arkansasonline website said on 11/09/2010.
* Related topics –
–
05/2009 -RIVERDALE TERROR PLOT FOILED  
02/2009 – ABDIFAtAH ISSE RELEASED TO A HALFWAY HOUSE  
2007 -MINNEAPOLIS NETWORK  
***************N****************
Read more ;  
WLWT.COM