– 11 KILLED IN THAI MOSQUE
–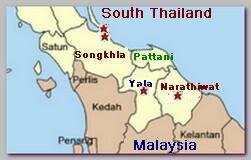 At least 11 people have been killed and at least 12 hurt, on Monday 06/08/2009, after two gunmen attacked a Mosque in Thailand's Muslim-majority south, known as  Patani-Raya, officials have said.
Men armed with assault rifles entered the mosque in the Cho-ai-rong district of Narathiwat province during evening prayers on Monday and opened fire, the army and police said. The attack came hours after a soldier died in a bomb blast and after opposition fighters shot dead a rubber-tapper in Narathiwat.
"They opened fire indiscriminately at about 50 worshippers inside the mosque," a police official said on condition of anonymity. The dead included the local imam, he said. The attack comes amid a spike in violence during a five-year insurgency that has left at least 3,700 people dead. He confirmed that 10 people were killed instantly while another died on the way to hospital. The 12 wounded were all in critical condition, he said.
The identities of those who attacked the Mosque on Monday were not known but he added that they had tried to make it look as if Thai security forces were responsible a police spokesman said.
The Thai government agreed in 04/2009 to extend emergency rule for another three months in the region, despite a promise by the prime minister in January to cancel the order.
* Related topics – 
–
11/2008 -OVER 60 WOUNDED IN BOMBINGS IN SOUTH THAILAND  
01/2008 -9 THAI SOLDIERS KILLED IN THE SOUTH
*************-N-**************
Read more ;