– PATANI RAYA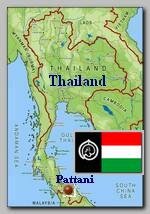 Patani Raya-Greater Patani, is the term used to describe the three southern provinces of Thailand Patani, Yala and Narathiwat, just on the border with Malaysia.  It is estimated that about 2.7 millions Muslims, 80% of the local population in Patani Raya and about 4.5% of the general population in Thailand are Muslims and speak their own version of Malay – Yawi.
The three provinces were under Siamese (Thai) rule from the end of the 18th century up to 1902. The region had a long historic narrative of rebelling, time and again, against Siamese (Thai) rule. In 1902 a Muslim Autonomy Emirate was formed in Patani Raya up to 1933. Than, according to an agreement between Great Britain, that ruled Malaysia, and the kingdom of Siam, today Thailand – the three Muslim provinces in the south – Patani, Yala and Narathiwat, became, again, an annexed part of Buddhist Thailand.
In 1941, during the Japanese occupation, Tengku Mahmud Mahyuddin, a prominent Patani leader and the son of the last Raja of Patani, allied himself with the British in the hope that Patani would be granted independence after an allied victory. However, after a short independency in 1945, the British broke their promises and allowed continued Thai rule over Patani, determined to keep Thailand stable as a counterweight to the communist insurgency in Malaysia.
In the last 3 decades a political separatist movement – Patani Darussalam, which was established in Malaysia, is seeking to restore the Autonomy of the region.
The Patani United Liberation Organization – PULO, was founded already in 1968 under the leadership of Kabir Abdul Rahman, a Patani Malay scholar. Not as the Patani Darussalam, PULO considers itself to be continuing the independence struggle of the Malay Sultanates. In 1995 a group of more extreme separatists founded the 'NEW PULO'.
Initially PULO abstained from using violence. In 2001 the movement formed a military wing – PULA (Patani United Liberation Army) and began to use violent tactics. The struggle has taken a violent turn when activists began to attack government compounds, collaborators with the Thai regime and non Muslim businesses. PULO never took responsibility on any of the attacks committed in South Thailand. 
According to Thai police the number of fatalities in South Thailand, since attacks flared-up in 01/2004, reached 3004 on 03/20/2008.
*Note – Although the Thai press tried to link PULA to Al Qaeda the no evidence to such an operational link. PULO ha no Jihady ideology and the struggle is an ethnic one.
 * Related topics –  
2008 – OVER 60 WOUNDED IN BOMBINGS IN SOUTH THAILAND

  
******************************
Read more  ;