– HAKIMULLAH MEHSUD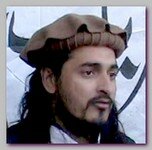 Hakimullah  Mehsud, aka Zulfiqar Mehsud, was born in South Waziristan, probably in 1980. He is the cousin of Qari Hussain, a much-feared Taliban commander who is believed to be the trainer and sponsor of many suicide bombers. 
 Within the Mehsud tribe Hakimullah  Mehsud run a group of its own – the Fedayeen al-Islam (Fedayeen – those who scarify themselves). His group operated in the areas of Kurram, Urukzai, and Khyber and was notorious of carrying out attacks against NATO-ISAF supply convoys in and near Khyber Pass in Pakistan (see – Khyber 02.04.09). In 09/2008 his group joined the new pro-Taliban coalition formed in Pakistan – Tehrik-e-Taleban.  
On 08/30/2008 Hakimullah  Mehsud held his first press conference at his makeshift base in the Orakzai Agency, and revealed himself to the public. The reputation of Hakimullah  Mehsud was that of a ruthless commander always on the move.
On Thursday 05/28/2009 Hakimullah  Mehsud took responsibility, through a phone call with a BBC correspondent, on behalf of Tehrik-e-Taleban, on a car bomb attack in Lahore a day earlier, which killed over 30 people (see – Lahore 05.27.09 ). Hakimullah  Mehsud is believed to lead 8,000 men, and claimed responsibility for the 06/09/2009 bombing of the Pearl Continental hotel in Peshawar (see – Peshawar 06.09.09).
Hakimullah  Mehsud is the leading figure to succeed Baitullah Mehsud as the head of Tehrik-e-Taleban after Baitullah was killed by a USA missile attack, on Wednesday 08/05/2009 (see – Ladha 08.05.09). There is a 10 million rupee ($120,000) bounty on his head offered by the Pakistani Authorities.
Ironically, according to Pakistani intelligence reports, Hakimullah  Mehsud himself was killed, on Saturday 08/08/2009 at about 16:30, in a shootout which breached out in a Jirga (Tribal Council) that convened in South Waziristan, FATA region, in order to elect a successor to Baitullah Mehsud as the Tehrik-e-Taleban leader
 (see – TTP-Crisis). The story was, eventually, wrong meant to create a diversion and to gain extra time for the reorganization of Tehrik-e-Taleban TTP.

  
Hakimullah  Mehsud was elected as the head of Tehrik-e-Taleban, in a special shura (council), on Friday 08/21/2009 (see – TTP 08.22.09). He was wounded in an American missiles attack, on 01/14/2010, probably in a failed attempt on his life (see – Pasalkot 01.14.10).
* Hakimullah  Mehsud was allegedly killed, on 01/17/2010, in yet another UAV missiles attack (see- Hakimullah 01.31.10 ). But a top ISI official said, on Thursday 04/29/2010, that Hakimullah  Mehsud escaped the attack and is "alive and well" (see – Hakimullah Confusion). 
* Hakimullah  Mehsud was charged in absentia by the USA Justice department, on Wednesday 09/01/2010, with organizing an attack that killed seven CIA employees at an American base in Afghanistan in 12/30/2009 (see – Khost 12.30.09) and conspiracy to kill Americans overseas and to use a weapon of mass destruction (see – Times Square Plot).
*  Hakimullah  Mehsud was claimed to be killed, once again, by an American UAV missiles attack on 01/12/2012, in North Waziristan. In the intercepted communications some Taliban militants have confirmed the death and some have criticised them for talking about it on the radio. However Pakistani Taliban have denied reports about Mesud's death, according to Pakistan's Geo TV channel. 
* Hakimullah  Mehsud was, eventually, killed for good, in a USA UAV drone missiles attack, in his own compound in North Waziristan, on 11/01/2013, a high ranking Pakistani Taliban has confirmed to international news channels. Four other people were killed in the strike, including two of Mehsud's bodyguards, Pakistani and American intelligence sources said.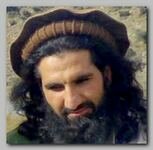 Friday's strike targeted Mehsud's vehicle in the Dande Darpa Khel, some 5km (3miles) north of the region's main town, Miranshah (see also – Miranshah 08.10.11). He was killed just three weeks after his depute Latif Mehsud, was captured by American Special Forces, which indicates that USA managed to build an intelligence infrastructure in the Mehsude tribe in North Waziristan FATA region of Pakistan. The Mehsuds were and are the hardcore of the Tehrik-e-Taleban in Pakistan. 

 
Khan Saeed Mehsud (pic), alias Sajna, 
Hakimullah  Mehsud's acting depute, was nominated, on Saturday 11/02/2013, as the new TTP leader. 
 But the TTP has announced, on 11/07/2013, they have elected Maulana Fazlullah as their new chief after the death of the previous leader Hakimullah  Mehsud. The announcement may indicates a split between the Mehsud tribe in North and South Waziristan and the militants in Swat District led by FazlulLah (see also – SWAT-DEAL).
* Related topics – 
****************************
 Read more ;