– INDIAN VILAGE SHELED FROM PAKISTAN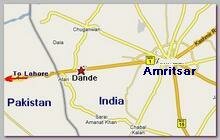 Dande village near the Attari-Wagah land border joint check post, 30 km West from Amritsar city was attacked, on Saturday 07/04/2009 night, by two Katiush rockets fired, most likely, from nearby Pakistan. The possibility of Pakistan-based terror groups being behind a 'rocket' attack Saturday night near an Indian village is not being ruled out by Indian security officials.


The Border Security Force (BSF), India's para-military force that guards the 553-km fenced border between India and Pakistan in Punjab, is investigating the two blasts. BSF officials said one shell landed on the Indian side of the border in paddy fields. The other shell fell inside Pakistani territory, BSF officials investigating the blast said.


'Villagers told Indian officials that two projectiles landed in the paddy fields last night,' a BSF official, who visited the spot, told the press. One villager, Dilbagh Singh, said he was injured due to splinters from the shell.
The 'rocket' attack incident follows the killing of a Pakistani national by the BSF near Roranwala village near the joint check post Saturday evening as he tried to run from the Pakistani side into Indian territory.
'The man, who was running towards the Indian side, was asked to stop and warned but he did not pay heed and our troops opened fire,' a BSF official said. The Pakistani side refused to admit that the killed man was from their country. His body was brought to a hospital in Amritsar.
Both incidents took place within hours of each other.
.
* Related topics – 
–
05/2009 -MOHAMMED NIZAR ARRESTED FOR TERROR 
05/2009 -CAR BOMB KILLED OVER 30 IN LAHORE 
04/2009 -INDIA FEARS AERIAL TERROR STRIKE
**********************-N-***********************
 Read more ;
–