– CHURCH BOMBED IN SOUTHERN PHILIPPINES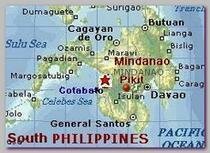 Suspected Muslim guerrillas detonated a bomb near a Roman Catholic cathedral in the southern Philippines town of Cotabato, on Sunday 07/05/2009, killing at least one person and wounding more than two dozen others.
The bomb exploded outside the Immaculate Conception cathedral in Cotabato as churchgoers walked out after attending Mass. One passerby was killed instantly in the attack.
Cotabato city Mayor Muslimin Sema said up to 26 others were wounded, some of them seriously. The wounded included five soldiers, who were passing by the cathedral in a van when the device exploded, which suggest they were a possible target
Maj. Gen. Alfredo Cayton immediately blamed the 11,500-strong Moro Islamic Liberation Front MILF, which has been targeted by a months long military offensive in nearby Maguindanao province and outlying regions.
Malaysian-brokered peace talks between the government and the rebels collapsed in 2008 when a preliminary deal on an expanded Muslim autonomous region fell apart, sparking new deadly clashes that have displaced large numbers of villagers.
Cotabato city has been hit by deadly bombings several times in the past.
.
* Related topics –  
–
05/2009 -$2.5 MIL' FOR FILIPINO  TERROR SUSPECTS 
.
***************N*******************
Read more ;
–