– 5 IRANIANS HANDED OVER TO THE IRANIAN EMBASSY
–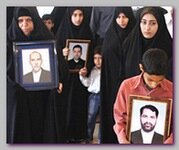 Five Iranian officials held by the USA military in Iraq since 01/2007 have been handed to Iran's embassy, on Friday 07/10/2009.
USA forces seized the five in the northern city of Irbil on suspicion of arming and funding Shiaa militias.  Iran says they are diplomats.
The USA state department said the release was not part of a deal with Tehran, but was a necessary outcome under a US-Iraqi security pact, in which USA is obligated to hand over all its detainees in Iraq to Iraqi control.
The US state department denied that the release was a goodwill gesture or part of an exchange deal for the release of journalist Roxanna Saberi, freed from an Iranian jail in May 2009.
A US state department spokesman said the five freed officials were "associated with" Iran's Al-Quds force, an elite unit of the Revolutionary Guards and the possibility that the five might create security problems in Iraq was "a big concern".
.
*Related topics – 
–
06/2009 -KHAMENEI'S  SPEECH 
04/2009 -ARAB  AXIS OF EVIL
.
**********N**********
Read more ;
–