– 5 BAGHDAD CHURCHES TARGETED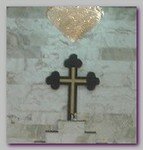 At least four people were killed and 32 wounded, on Sunday 07/12/2009, as five Baghdad-area churches were bombed within 24 hours, Iraqi officials confirmed.
The first bombing took place Saturday 07/11/2009 night at St. Joseph's church in Western Baghdad, according to an Interior Ministry official. Two bombs placed inside the church exploded at about 22:00. No one was in the church at the time of the attack.
Sunday afternoon, three bombs exploded outside churches, wounding eight civilians. The bombs detonated within a 15-minute span, between 16:30 and 16:45 p.m. Two of the churches are in central Baghdad's al-Karrada district, and the third is in al-Ghadeer in Eastern Baghdad.
Sunday evening, a car bomb exploded outside a church on Palestine Street in Eastern Baghdad just after 21:00, the official said. Four people died, and 21 were wounded. In southern Baghdad's Dora district, a bomb outside a church wounded three other civilians.
The string bombings were, almost certainly, coordinated, aimed to uproot the Christians from Iraq and came just a day after 7 people were beheaded in Somalia for being "Christians and spies" (see – Baidoa 07.10.09) and a week after another church was targeted in Cotabato, Southern Philippines, in a Muslim predominated area (see – Cotabato 07.05.09).   
St. Joseph's was one of six churches hit by coordinated bombings of Christian houses of worship in Baghdad and Mosul in 2004. St. Joseph is located in the al-Jamiaa neighborhood of Baghdad, a former stronghold of Al Qaeda in Iraq. There have been recent reports of an increase in targeted attacks in the area.
Many of Iraq's estimated 1 million Christians have fled the country after targeted attacks by extremists in 10/2004. More than a thousand Iraqi families fled the Northern city of Mosul after they were reportedly frightened by a series of killings and threats by Muslim extremists, who apparently ordered them to convert to Islam or face possible death. At least 14 Christians were killed in Mosul in the first two weeks of 10/2008 (see – PERSECUTIONS).
Separately, gunmen shot and killed an official in the Iraqi city of Kirkuk on Sunday 07/12/2009 morning. Using guns with silencers, the assailants opened fire on Rizko Aziz Nissan outside his home in central Kirkuk at 8:15 a.m.
Nissan was an Iraqi Christian, but the motives behind his killing were not immediately clear, although it is hard to believe the assassination is unrelated to the church bombings. Kirkuk is 150 miles (240 kilometers) North of Baghdad.
Not only in Iraq, Somalia or Southern Philippines Christians suffer from persecutions and are

 

not protected. They are persecuted all over the Muslim World.

 
.
* Related topics – 
–
03/2008 -ARCHBISHOP BODY FOUND IN IRAQ 
10/2007 -CHRISTIAN KILLED IN GAZA PERSECUTION 
09/2007 -EGYPTIAN COPTS PERSECUTION  
.
*********************************
Read more ;
–