– VERVIERS RAID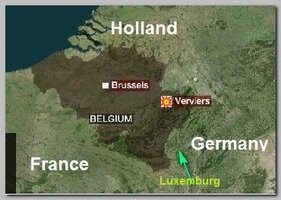 Two people have been killed and a third seriously injured, on Thursday 01/15/2015  evening,. during a terrorism-related police operation against suspected jihadists in  Rue de la Colline, Verviers, Belgium. Verviers is a former industrial town with a large immigrant population about 80 miles southeast of the capital, Brussels, near the border with Germany
 The suspects immediately opened fire on police when special forces closed in on them near the railway station of Verviers. Eric Van der Sypt, a federal magistrate said that there was "no link at this stage to the Paris attacks" last week which left 17 people dead. "This operation stopped a major terrorist attack from taking place. You could say a second potential Paris has been averted." he said. "The investigation started a few weeks ago before the attacks in Paris, I would like to stress," Mr Van der Sypt said. "They [the suspects] all have Belgian nationality" he added.
 The three men had been under surveillance after recently returning from Syria, according to police sources. The cell was reportedly equipped with Belgian police uniforms, four Kalashnikov machine guns, handguns and explosives. They were also planning to take a number of hostages by seizing a bus according to Belgium's RTL broadcaster on Friday 01/16/2015.
.Earlier this week, police Belgian arrested an arms dealer, Neetin Farasula, from Charleroi in French-speaking southern Belgium, is thought to have been involved in negotiating the sale of guns to Amedy Coulibaly. Neetin Farasula turned himself in probably fearing his Jihadists clients more than the police.
 A number of people have been arrested. The operation is now believed to be over. The Belgian prosecutor said the situation was "under control". The raid was part of a major anti-terrorist operation by the federal police being carried out across Belgium.
 According to a report in the Belgian media, the suspects planned to abduct and behead a prominent law enforcement official and post a video on the internet.The suspects were known jihadists who had returned from Syria in the last month (12/2014).
 Police carried out searches in 12 properties in Brussels, Verviers and Halle-Vilvoorde as part of an investigation into extremists returning from Syria, authorities said. more than a dozen people rounded up in across-the-country raids designed to stop a group's allegedly imminent attack, a plot to kill Belgian police in streets and stations,- the nation's federal prosecutor said Friday 01/16/2015. . "Could have been hours, certainly no more than a day or two" before attacks were to begin throughout Belgium, van der Sypt told reporters of the alleged plot. 17 have been arrested in the investigation — 13 in the Belgium raids and four others in France, including two who were detained while trying to cross from France into Italy, van der Sypt's office said Friday.
On Tuesday 01/13/2015 night, about 48 hours before the Verviers shootout, German authorities raided a mosque, an Islamic community center and radical Islamists' flats in cities across Germany on suspicion of having connections to militants in Syria.
Belgian media reported, on Saturday 01/17/2015, that the authorities are searching in Greece and Turkey for the "mastermind" behind the Verviers plot identified as  Abdelhamid Abaaoud, who funded the jihadist cell, according to the newspaper La Dernière Heure.
 A suspect, who was identified as Abdelmounaim H. 22, turned himself in to the belgian authorities, was arrested and charged with support to terror, on Tuesday 01/20/2015,
 Belgian prosecutors, on Wednesday 01/21/2015, released partial identities of the suspects shot dead in Verviers: Sofiane A., who has Belgian and Moroccan nationality and was born in 1988; and Belgian national Khalid B., born in 1991. Both are from the Molenbeek district of Brussels, Abdelhamid Abaaoud's neighborhood. Police also revealed that a third suspect, identified as Marouane el-Bali, managed to escape the shootout. he was, probably, the commanding figure on the scene.
 Authorities in Holland opened their own investigation after a passport of a Dutch national, identified as Zaiud K., was found in the house raided in Verviers, the Belgian prosecutors said..
Relayed topics ;
02/2015 – MOLEMBEEK CELL
10/2014 – SHARIA- 4 -BELGIUM
9/2014 – BRUSSELS JEWISH MUSEUM SHOOTING
06/2013 – JIHADISTS THREATEN EUROPE WITH FLYING MODELS 
**********************
Read more ; 
 TELEGRAPH-U.K                         REUTERS
DAILYMAIL                                           BLOOMBERG
YNETNEWS                                           CNN EDITION
FOXNEWS                                          ALARABIYA
GREEKREPORTER