– ABDELHAMID ABAAOUD & BROTHER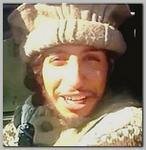 Abdelhamid Abaaoud is a 27-year-old Belgian of Moroccan origin,  from the Molenbeek Cell of Brussels traveled to Syria in 01/2014 and joined I.S.I.S soon afterward. He has appeared in several videos that the Islamic State has posted online. In one of the videos, in 03/2014, he drove a vehicle dragging four corpses that had been mutilated by members of the Islamic State. Abdelhamid Abaaoud is the older brother of Younes Abaaoud, 13, who is Belgium's — and probably Europe's — youngest foreign fighter in Syria (see also – Western-Jihadists ).
According to the Flemish television network VTM, on Saturday 01/17/2015, Verviers Plot investigations on the terrorist cell started between Christmas 2014 and the New Year 2015 when a prisoner in Ladino, eastern Belgium, received suspicious phone calls. Belgian authorities had tapped the phone and discovered that Abdelhamid Abaaoud was communicating with suspected jihadists through the prisoner — who is the brother of one of the suspects that were killed Thursday night during the police operation in Verviers.
According to VTM, these phone calls were traced back to Greece. The newspaper La Dernière Heure added that the suspect may also be located in Turkey. The federal prosecutor in charge of the investigation did not confirm nor deny this information.
At least four people have been arrested in Athens, on Saturday 01/17/2015, as part of a probe into the Verviers jihadist cell that was dismantled in Belgium.
After careful vetting in Brussels of ID information, federal magistrate Eric Van der Sypt said, on 01/18/205, there was no positive match with any individual they sought and said "they had nothing to do with the Belgian case."
Read more ; 
GREEKREPORTER
EMMJIHAD
SUDINFO
RTE-NEWS
DAILYMAIL
************************
Related topics ;
02/2015 – 3 MORE BRITISH TEEN GIRLS TRAVELED TO SYRIA
10/2014 – 2 NOWEIGIAN SISTERS TRAVELED TO SYRIA
08/2014 – PROFILE – KHALED SHARROUF
09/2013 – BRUSSELS JEWISH MUSEUM SHOOTING