– BRUSSELS JEWISH MUSEUM SHOOTING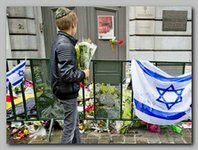 On 05/24/2014 at about 15:30, a gunman opened fire at the Jewish Museum of Belgium in Brussels, Belgium, killing four people. Three died at the scene; a fourth was taken to hospital and died on 6 June.
 Two of the victims were Israelis, Emanuel and Miriam Riva, a middle-aged couple on holiday from Tel Aviv, Israel, a French woman volunteer and a young Belgian man, Alexandre Strens, who worked at the museum was critically wounded and eventually died of his wounds on 06/06/2014. He was born in Morocco to a Jewish mother and Algerian Berber father, and his body was returned to Taza, Morocco for burial in a Muslim cemetery.
The perpetrator wearing a cap covering-up his head, carrying several bags and armed with a handgun and a Kalashnikov rifle arrived at the museum around half past three.He then opened fire, killing three people on site and critically wounding a fourth. The attack lasted less than 90 seconds, after which the shooter fled the scene on foot and was partially captured by security cameras heading into a different part of downtown Brussels before disappearing. According to security camera footages, like Mohammed Merah the Toulouse shooter, on 03/19/2012, the attacker appeared to have a chest-mounted camera (see – Toulouse Shootings).
A nationwide manhunt was launched for the attacker, who was described as being of medium height and athletic build,. His image, partly obscured, was captured on CCTV and distributed to all European security and police forces. Deputy prosecutor Ine Van Wymersch  in Brussels said the shooter "probably acted alone, was armed and well prepared." She stated that the motive for the attack was still "open". 
**********************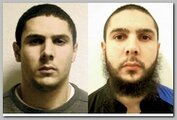 On 05/30/2014, a French national, 29-year-old Mehdi  Nemmouche, was arrested at the Saint-Charles railway station in Marseille in connection with the shooting. Mehdi  Nemmouche is suspected to have returned to France from fighting for Islamist rebels in the Syrian Civil War in 2013 (see – Western-Jihadists). He has previously spent five years in prison where he is suspected to have been influenced by Islamic teachings.
 Mehdi  Nemmouche left for Syria only three weeks after being released from prison in 09/2012. If proven guilty, he will be the first European volunteer in the Syrian war who commits attacks upon returning to Europe. A number of items were recovered from the bag he was carrying while being detained, including a Kalashnikov rifle, a .38 Special revolver, nearly 330 rounds of ammunition for both weapons, gun parts, cameras, clothing, and a gas mask. A hidden file containing a 40-second video was discovered in one of the cameras; in it, Mehdi  Nemmouche's weapons are recorded and a voice, believed to belong to Mehdi  Nemmouche by police, claimed responsibility for the museum shooting in an audio commentary.He was also said to have had a white sheet emblazoned with the name of the Islamic State of Iraq and the Levant – I.S.I.S
 MEHDI Nemmouche, who has Algerian as well as French citizenship, was resisting extradition to Belgium. He has denied the charges against him.
 According to sources  familiar with the investigation Mehdi  Nemmouche reportedly plotted terrorist attack on the Champs Elysees parade on Bastille Day, on 07/14/2014.
 On 07/29/2014,Mehdi Nemmouche was extradited to Belgium. 
 ——————————–
**
French journalist
Nicolas Henin
, held between 06/2013 to 04/2014 by extremists in Syria
along with the British aid worker
David Haines
, says he was tortured by Mehdi  Nemmouche.
"When Nemmouche was not singing, he was torturing. He was part of a small group of Frenchmen whose visits would terrify the 50-odd Syrian prisoners held in the cells nearby"
Nicolas Henin said. 
 ** A video footage of the beheading of David Haines was published through Youtube, on the web, on 09/13/2014.
 * Related topics: 
*****************************
 Read more ;  
TOTPI.COM