Global Jihad
Jabhat al-Nusra - Jabhat an-Nuṣrah li-Ahl ash-Shâm - in Arabic "The Front of Support for the People of the Sham (Greater Syria), is a branch of al-Qaeda operating in Syria and Lebanon.
Continue reading
Ansar Bait al-MaqdIs is one of several groups that emerged in Sinai Peninsula especially after the first Egyptian revolution in early 2011 tacking advantage on the general chaos in Egypt
Continue reading
Abu Ayadh al-Tunisi, who had previously co-founded the Tunisian Combat Group with Tarek Maaroufi in 06/2000, founded Ansar Al-Sharia in Tunisia in late 04/2011.
Continue reading
Ansar Al Sharia in Libya, headed by Sheikh Muhammad al-Zawawi. was formed at the end of the Libyan Civil War as an Islamic militia Made up of former rebels from several brigades and others,
Continue reading
– TALIBAN'S VICTORY
Mullah Omar, Taliban's leader, has issued, on Friday 08/17/2012, an Eid (Holiday) message claiming victories on the battlefield against NATO-ISAF in Afghanistan. Continue reading
–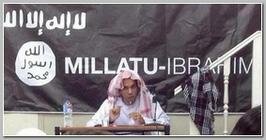 * Millatu Ibrahim, can be translated as "the direction of Abraham, a name of  Quranic origin,  is  a Salafist group  founded in the fall of 2011, in a "backyard mosque" in Solingen; in North Rhine-Westphalia, Western Germany  By… Continue reading →
– AL QAEDA TAKES ADVANTAGE ON ARAB REVOLUTIONS
In a new edition of "Inspire", the online English magazine of Al-Qaeda was distributed on Thursday 03/31/2011. The issue is called "The Tsunami of Change," and includes the first post-revolution messages Continue reading
– GERMAN TALIBAM MUJAHIDEEN – GTM
The German Taliban Muhajideen –GTM appeared in mid 2009 as a Turkish-German Jihadist internet forum trying to portray the GTM as a cell of Jihadi modern fighters. Continue reading
– BOKO HARAM
Boko Haram is an Islamic radical and militant group operating since 2002 in North and Central Nigeria, on the demographic border region between the Muslims in Nigeria. Continue reading
A document made public, on Tuesday 12/07/2010, showed that up to 25% of all former detainees at Guantanamo subsequently engaged in terrorism or insurgency.
Continue reading