– MILLATU IBRAHIM
–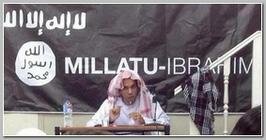 * Millatu Ibrahim, can be translated as "the direction of Abraham, a name of  Quranic origin,  is  a Salafist group  founded in the fall of 2011, in a "backyard mosque" in Solingen; in North Rhine-Westphalia, Western Germany  By the Austrian citizen .Muhammad Mahmoud and Denis Cuspert.  the group has around 50 members  On 05/29/2012, Germany's Interior Minister declared a ban on the Millatu Ibrahim organization "because of efforts against the constitutional order" and cited incidents where the group turned to violence. Millatu Ibrahim  has also called for further violence
On 06/14/2012 raids  were conducted by 850 police officers in seven of Germany's 16 states, focused on two other groups – DawaFFM and DWR – to determine whether evidence exists to ban them as well. DWR's initials are the German abbreviation for "The True Religion.
The  group has also few followers in neighboring countries like Denmark.
Millatu Ibrahim main activity was to radicalise young German Muslims, to encourage them to fight for Islam. including the necessity to use violence, and, eventually, to join the Global  Jihad all over the World.
A branch of the Millatu Ibrahim has been established in Australia by the Islamic preacher Mohammed Junaid Thorne, an Australian citizen from Saudi descent.
Related topics ;
12/2010 – GERMAN POLICE RAIDED ISLAMISTS HOMES 
11/2008 – GERMAN POLICE RAIDED TERROR SUSPECTS   
11/2007 -COLOGNE KHALIFAT 
07/2007 – FRANKFURT GROUP
PROFILE – BURAK HARAN
——————————–
 Read more :
WIKIPEDIA MILLATU IBRAHIM 
THELOCAL 
HUFINGTONPOST