Germany & Austria
–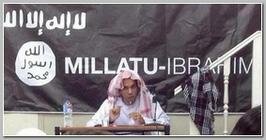 * Millatu Ibrahim, can be translated as "the direction of Abraham, a name of  Quranic origin,  is  a Salafist group  founded in the fall of 2011, in a "backyard mosque" in Solingen; in North Rhine-Westphalia, Western Germany  By… Continue reading →
Profiles of Emrah Erdogan, born in 1988, a German citizen from Turkish descent and Swiss citizen Majid Najjar, born in 1993.
Continue reading
– GERMAN SUSPECT AHMED MUELLER PROBABLY IN SOMALIA
German terror suspect Ahmed Khaled Mueller whose picture was circulated by police on Saturday 05/12/2012, over links with the al-Shabab could have crossed into Somalia. Continue reading
– MAQSOOD LODIN
Maqsood L. was born in 1990 and is an Austrian citizen. Since 2009 Maqsood L. cut of his connection with his parents in Austria and they reported him, in 05/2009, to the Vienna police as a "missing person". Continue reading
– THOMAS AL-J.
Thomas al-J., born in 1986 in Austria, is a known radical convert who has connections to other Islamists across the border in Germany and was a blogger admiring Jihadi cleric Anwar al-Awlaki. Continue reading
Three suspected members of Al Qaeda, Abdeladim K., Jamil S. and Jamil S., were arrested in Germany, on Friday 04/29/2011 morning, officials said.
Continue reading
– DENIS MAMADOU CUSPERT – ABU MALEEQ
Denis Cuspert was born in Berlin in 1975 to a family from Ghanian origin. started a successful career as a street rapper. Continue reading
Mohamed Benshain lives in Bonn Bad Godesberg, where he runs his own publishing house and organizes the notorious Salafist Islam seminars.
Continue reading
Dr. Salem Rafei was born in 1962 in Lebanon, is a Lebanese citizen and one of the cofounders of the Al-Nur Mosque in Berlin in 2001.Abdel Hadime Kamouss was born in Morocco but grew up in Germany.
Continue reading
Al-Nur Mosque in Neukolln, Berlin was founded in 2001 by a Saudi and two Lebanese citizens. The purchase of the property was to 75% funded by the Saudi Al Haramain.
Continue reading