– JUDE KENAN MOHAMMAD
–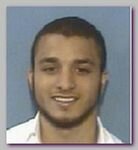 * Jude Kenan Mohammad the eighth suspect in a North Carolina terrorism case (see – Raleigh Plot ), was born in 1989 to a family from Pakistani descent and is a USA citizen. His father is living nowadays in Pakistan. Jude Kenan Mohammad traveled to Pakistan in mid 2008, allegedly to visit his father but, according to the FBI, "to engage in violent jihad".
On Monday 08/03/2009, Jude Kenan Mohammad was named as the eighth suspect of the Raleigh Plot. According to court documents, Jude Kenan Mohammad was charged, in absentia, with conspiracy to provide material support to terrorists and conspiracy to murder, kidnap, maim and injure persons in a foreign country.
Jude Kenan Mohammad was initially arrested in 10/2008 when he tried to enter the Pakistan's Mohmand tribal region, an area considered a haven of Al Qaeda and Tehrik-e-Taleban. Jude Kenan Mohammad

made an appearance in court with a beard and dressed in the long shirt and baggy trousers worn by many Pakistani men. Soon after the hearing he was released and assumed to be at large in Pakistan.
.
Pakistan's authorities said, on Saturday 09/05/2009, that Jude Kenan Mohammad
failed to show up for his

court hearing
in Charsadda district
, in

Pakistan

,

on Saturday 09/05/2009, bolstering suspicions he's on the run.
.
* US media, On Friday 09/09/2011, said one of the three wanted suspects related to a new alert in New York is Jude Kenan Mohammad (see – NY 09/2011 Alert ). He was put therefore on the FBI's most wanted list. 
.
*Related topics – 
–
07/2009 -BRYANT VINAS ACCUSED OF TERROR 
05/2009 -THE RIVERDALE  SUSPECTS 
PROFILE -OMAR HAMMAMI – MANSOUR AL-AMRIKI
.
*************************
 Read more ;
–
WXII12.COM