– UNREST IN SOUTHERN THAILAND CONTINUES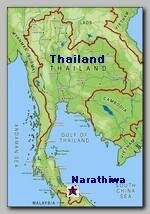 Two soldiers have been shot dead and three people injured in a gun attack on an army checkpoint in south Thailand, on Sunday 08/23/2009.
The pre-dawn attack, near the southern border of Narathiwat province, has been blamed on Islamist insurgents. At least 10 rebels are reported to have opened fire on the checkpoint before fleeing in pickup trucks.
The five-year insurgency by Muslims seeking greater autonomy in the southern regions of Thailand has so far cost more than 3,000 lives.
Thailand annexed the three southern provinces – Narathiwat, Yala and Pattani – in 1902, but the vast majority of people there are Muslims and speak a Malay dialect, in contrast to the Buddhist Thai speakers in the rest of the country (see – Patani-Raya).
Insurgents usually target people they perceive to be collaborating with the Bangkok government – using bomb blasts, beheadings and shootings.
They have also tried to force Buddhist residents from the area, with the aim of ultimately establishing a separate Islamic state.
.
* Related topics – 
–
11/2008 -OVER 60 WOUNDED IN BOMBINGS IN SOUTH THAILAND
.
**************N***************
Read more ;
–