– AQ SPANISH LOGISTIC CELL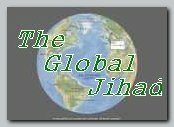 On 01/17/2005 the Spanish investigating Judge Baltasar Garzon indicted an Al Qaeda cell which operated in Spain and provided logistical support and false documents, through Ramzi Binalshibh, to The 9/11 perpetrators.  
 The extended warrant was issued against Ramzi Binalshibh himself, who was held in Guantanamo, Hedi Boudhiba – nick name Fathi, who was detained in UK and fought in court his extradition to Spain and against 7 other suspects: Samir Mahjdoub, alias Sami Menardo;  Reda Zerroug; Redouan Zenimi, alias Bachir; Mohamed Ayat; Khaled Madani, 33; Tahar Ezirouali and the Spaniard Francisco Garcia Gomez. They also provided material support to Ansar al Islam network in Europe in the post 9/11 period and recruited volunteers for the war in Iraq.
All, except Francisco Garcia Gomez, who was released on bail, were charged with membership in a terror organization.
An international arrest warrant was issued against Tahar Ezirouali.
Khaled Madani was described in the indictment as Ramzi Binalshibh's right-hand man in Spain. He received money from Zacarias Essabar and provided him with two passports, including a USA passport stolen in Barcelona in 1998. Both passports were used later by Ramzi Binalshibh.  

Samir Mahjdoub, the brother of Abderrazak Mahdjoub, and another brother Farid Mahjdoub ran clothing shops in Bilbao, northern Spain. He was arrested on 05/19/2004. Police suspected the legitimate clothing businesses were used for laundering drug money and robberies, carried out by Samir Ait Mohamed and Abdelhai Djaouat, for terror usage.  Abdelhai Djaouat himself was arrested in Spain already in 2003 due to a German European arrest warrant for belonging to an Islamic militant terror organization. 
 Police found in Redouan Zenimi's apartment in Barcelona, when he was arrested, on 05/19/2004, footages of Islamic militants in Algeria carrying out attacks against the Algerian regime.  
Reda Zerroug was arrested when he arrived at Alicante airport from Germany on Sunday 07/25/2004.

Mohamed Ayat, an associate of Francisco Garcia Gomez, was arrested on 05/19/2004. He was indicted on the lesser charge of collaborating with a terrorist group. 
 Eventually the Spanish prosecution failed to prove that the defendants have any prior knowledge about The 9/11.
* Related topics – 
2005 – SPANISH AL QAEDA TRIAL 

  
******************************
Read more ;