– NORTHERN ISRAEL HIT BY 2 ROCKETS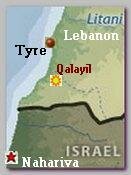 Two 122 katyusha rockets fired from near by the village of Qalayil in Southern Lebanon exploded in Northern Israel near the tow of Nahariya, on Friday 09/11/2009 at about 16:20. No damage or casualties were reported.  Qalayil is located 6 km Northern to the Israeli-Lebanese border and about 9 km South East of Tyre.
The Israeli military responded with eight shells fired into a fruit plantation near Qalayil. Israel said that they hold the Lebanese government and army responsible, due to their cited responsibility for preventing rocket fire from Lebanon to Israel.
According to intelligence sources the rockets were fired by elements affiliated to Al Qaeda from the Palestinian refugee camp Ain al-Hilweh (see – Jund al-Sham).
It is not clear if the accident is related to The 9/11 eighth anniversary, to the political internal crisis in Lebanon or both. It is assumed that Hizbullah, which control the area effectively, enabled the rockets to be launched by overlooking but there is no prove to the assumption.
The last time rockets were fired from Lebanon to Israel was on Saturday 02/21/2009 morning (see – Maalot 02.21.09).

  
.
* Related topics – 
.
01/2009 -ROCKETS FIRED TO NORTHERN ISRAEL FROM LEBANON 
.
***********N************
Read more –
–